The Dawn of Healthcare Innovation: A Perspective from Maharashtra – N Nawin Sona, Government of Maharashtra – Elets eHealth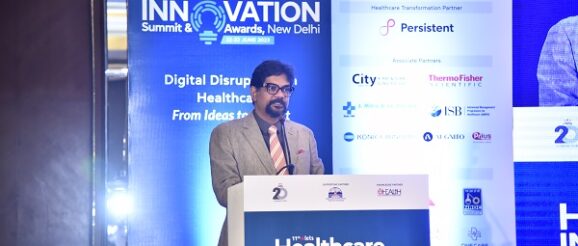 N Nawin Sona, Secretary II, Public Health Department, Government of Maharashtra, shed light on the importance of healthcare innovation in the post-COVID era, at the 11th Elets Healthcare Innovation Summit & Awards on 22 June 2023 at Eros Hotel, New Delhi. He emphasised that the greatest innovator is nature itself, as evidenced by the COVID-19 virus's ability to reinvent itself, forcing us to adapt and innovate in response.
He highlighted that innovation is not just about discovering something new, but also about improving existing systems. He cited the evolution of writing instruments from ink pens to digital pens as an example of this process. "Innovation is possible within government systems, as demonstrated by the Digital Health Mission, which has become a reality thanks to the vision and leadership of the Prime Minister", he stated.
He further added, "The scope for healthcare innovation is vast, starting from understanding the biology of diseases and pathogens. With the help of AI systems and deep learning models, we are now able to uncover the biology of diseases and pathogens, leading to personalised medicine and the dawn of genomics. In India, gene mapping is now available for less than 25,000 rupees, a significant reduction from the tens of thousands of US dollars it cost just a decade ago."
He also touched upon the role of AI in disease modelling, which is a significant business case in the private sector. He mentioned, "The creation of digital twins of cities, hospitals, and patients, can help in understanding the impact of changes in healthcare systems."
Telemedicine, driven by the pandemic, is another significant change in healthcare. As patients become data sets, the need for physical examination decreases, and machines can perform examinations for doctors. He also highlighted the potential of AI in drug discovery and delivery, and the intersection of virtual reality and chemistry in visualising new molecules.
He further stated, "The handling of patient data is another crucial aspect of healthcare innovation. The Digital Health Mission is working towards setting data standards, which will help in descriptive, diagnostic, predictive, and prescriptive analytics."
He also discussed the role of finance in healthcare, mentioning Maharashtra's insurance-based scheme that covers over 10 crore people. The state aims to provide paperless, cashless, and instantaneous healthcare to people. He also highlighted the potential for green hospitals, which could reduce the energy footprint and environmental load of healthcare facilities.
Concluding his keynote address he invited innovative solutions to improve healthcare in Maharashtra. "The creation of the Maharashtra Medical Goods Procurement Authority, will encourage innovation in healthcare technology and procurement. The ultimate goal is to provide excellent, affordable, and value-based healthcare to all in the state", he said.
Follow and connect with us on Facebook, Twitter, LinkedIn, Elets video