the latest innovation from Clinical Collagen Booster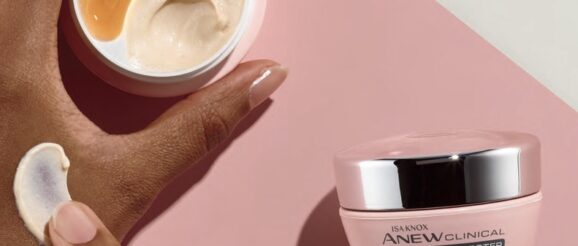 Avon Lady NJ
the pro lifter COLLAGEN
INFUSED WITH PEPTIDES, KNOWN TO HELP FIGHT THE VISIBLE EFFECTS OF COLLAGEN BREAKDOWN SO SKIN LOOKS AND FEELS SMOOTHER, FIRMER AND MORE RESILIENT.
Isa Knox Anew Clinical Collagen Booster Eye Lift Pro Dual Eye System
With a peptide complex to help fight collagen breakdown and boost skin renewal. In one week, eye area looks lifted, firmer and tighter. Gel, .33 fl. oz. Cream, .33 fl. oz. 729-435 reg. $40
$23.99
Isa Knox Anew Clinical Collagen Booster Microneedling Polisher
At-home skin-resurfacing alternative to microdermabrasion and microneedling procedures. Visibly diminishes pores, fine lines and wrinkles. Skin looks smoother and more radiant. Vegan formula. 1.7 fl. oz. 798-592 reg. $34
$19.99
Isa Knox Anew Clinical Collagen Booster Rejuvenating Serum Ampoules
Powerful peptide blend helps boost skin's renewal process. Capsulated singleuse ampoules keep formula fresh and potent. Vegan formula. 60 ampoules, .008 fl. oz. each. 803-077 reg. $62.50
$49.99
Free Gifts with Select Purchases
FREE Anew Power Serum – With select $30 skin care purchase. $45 value. Shop Now
Currently Shopping
Campaign 17 Avon Brochure USA: pump + plump! the latest innovation from Clinical Collagen Booster + FREE Power Serum see inside. Campaign 17 (C-17) Avon Brochure closes on 8/29/23 at 11:59 pm ET / 8:59 pm PT.
Using and Redeeming a Promo Code is Simple
Match Order Total: Ensure your order total matches the offer requirements.
Add Brochure: Before final checkout, remember to add a free brochure to your bag from the right sidebar under 'Your Special Offer'.
Check Shipping: During checkout, verify the Order Summary for "You are $00.00 away from qualifying for Free Shipping".
Single-Use Codes: Most codes are for single use only.
Shipping Details: Free shipping is for standard delivery to the contiguous 48 states. Extra charges apply to Alaska and Hawaii.
Expedited Shipping: Offers can't be used for expedited shipping.
Code Application: Copy the code after 'Use Code:', sign in to your Avon account, choose Direct Delivery, paste the code, and apply.
Remember, offers typically expire at 11:59 p.m. EST on the specified date.
The post the latest innovation from Clinical Collagen Booster appeared first on Nancy, the Avon Lady of NJ.