The Monday Interview: Mayank Shah, MSDUK – unlocking innovation through diversity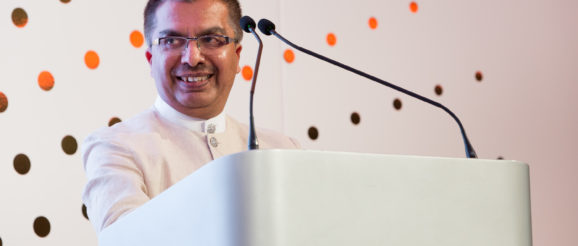 On the eve of bringing its largest-ever celebration of diversity in the supply chain to Birmingham, TheBusinessDesk.com spoke to Leicester-based MSDUK's chief executive Mayank Shah about the how the drive towards diversity can benefit businesses on a global scale.
What is the ethos behind MDSUK?
"We are not a typical events/awards organisation. MSDUK is an international organisation promoting diversity and inclusion of ethnic minority-owned businesses in corporate supply chains. We provide an integrated ecosystem of programmes, events and networks to our two key stakeholders – ethnic minority businesses and corporations – helping them build strong relationships, identify opportunities to work together and experience shared growth.
"Every two years we organise a conference and awards night to bring our global network together to meet, share knowledge and network, celebrate our work and recognise individuals, businesses and corporations for their achievements through our programmes.
How have firms' attitudes to diversity changed in the last decade?
"Businesses across the world have come to realise the benefit business diversity brings to the bottom line. As supply chains become more complex and global brands compete in an ever-changing market place, these firms are looking for different ideas, competitive solutions and innovation. Diversity of ideas, diversity of business solutions is the only way these global brands will achieve all this.
"MSDUK is in its twelfth year of operations and we have experiences growing interest and importance given to diversity and inclusion by both private and public sector purchasing organisations."
What tangible benefits does a diverse supply change bring to a company – both culturally and financially?
"Flexibility, differences in approach, agility and innovation but most importantly, by doing business with ethnic minority businesses, there is a huge socio-economic impact to be made on communities across the country."
Who has led the change towards a more diverse supply network – larger companies, or smaller, typically?
"I would say that changing landscape of both larger companies and smaller ethnic minority businesses have played equal role in supply chains becoming more diverse. Large companies, as part of their strategic focus on being more accessible to SMEs, are more inclusive and make procurement more transparent become more open to doing business with smaller, nimble, agile and innovative suppliers. "
"On the other hand, Ethnic Minority Businesses in the UK have over the years have come out of their traditional lifestyle businesses to become more mainstream including in the field of technology, engineering, manufacturing, media, recruitment, consultancy with capacity and infrastructure in place to meet supply chain expectations.
Do enough firms know about the benefits of supply chain diversity?
"MSDUK has always kept its activities under the radar because we strongly believe in leading by example and delivering results. Over the last 12 years, we have worked with over 125 global brands, engaging more than 1,500 EMBs in our programme of activities, held more than 160 events and offered more than 600 contract opportunities that have resulted in more than £600m worth of businesses won by over 100 businesses.
"I think we now have a platform to say loudly that a diverse and inclusive supply chain benefits everyone – companies, businesses, communities and the economy."
What is your mission over the next five years?
"Our mantra going forward is 'Unlocking Innovation through Diversity' – we know innovation is key to driving economic growth and we want to ensure we bring  some of the best ideas developed by ethnic minorities and support them in bringing those ideas to life by giving them access to investment and industry.
"By 2020, we have set goals to bring 300 ideas to market, facilitate investment in access of £25m into these ideas, generate over £250m worth of businesses and develop an integrated ecosystem of 5,000-plus stakeholders committed to an inclusive society, economy and growth."
The Monday Interview: Mayank Shah, MSDUK – unlocking innovation through diversity