The perfect on-farm pairing to promote innovation and diversity | Stuff.co.nz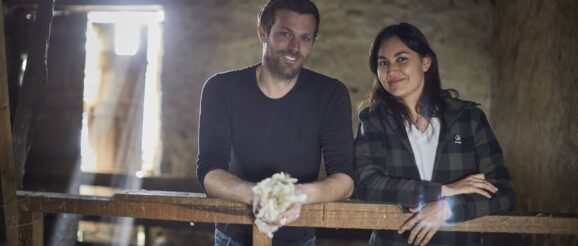 When Carlos Bagrie and Nadia Lim took over Royalburn Station their guiding ethos was to "give it a crack".
Their appetite for experimentation and innovation has since established the 485 hectare farm as one of the most diverse in the country.
Bagrie, who grew up on a Southland farm but threw himself into a city-slicker life of marketing and branding before purchasing the station five years ago, said they were a little naive when they started.
They already knew that Royalburn Station on the Crown Terrace between Arrowtown and Wānaka was great for growing grains, as confirmed by records dating back to the 1880s, and barley, wheat, sunflower seeds, peas and clover seeds quickly became a cornerstone of their business.
But they also saw the opportunity to finish great livestock, a great environment for chickens, bees and a market garden, and none of those things stood in isolation.
Bees pollinate, so clover is grown for seed production, while barley straw, wheat straw and chicken manure are used to produce compost, which was then used in the market garden.
"They're all part of one single ecosystem … they might seem random, but a lot of it is utilising waste streams across the property to become resources elsewhere," Bagrie said.
They learnt quickly that everything needed to be done at scale to reach a level of efficiency that made economic sense.
They started with 100 chickens and have grown those numbers to almost 8000, have millions of honey-producing bees and are finishing between 8000 and 10,000 lambs this year.
For Bagrie, it was a revelation to reproduce the sweet, succulent meat of the home-kill lamb he grew up with.
Initially, he was reluctant to kill the lambs at Royalburn but was pushed by celebrity chef wife Lim, who was frustrated at having to purchase lamb from the supermarket.
"I had to go out and begrudgingly shoot some sheep. We ate them, and they were incredible. They were the lamb that I remember as a child."
He came to understand that the final days of the animal's life significantly impacted on the final taste.
This led to them building an abattoir and butchery on the farm to remove the usual stresses of an animal's final days, including stock trucks, being taken off feed, removal from their home environment and being harassed by loud music and dogs at meat works.
They have had such success with their lamb that they are supplying many of the highest class restaurants in the Queenstown and Wānaka area and recently won the Primary Sector Award at the 2023 NZ Food Awards for their Royalburn Fine Lamb.
They now have a staff of 32 people who work on the farm and operate their vehicles, are involved in sales and marketing and running the Royalburn Station Farm Shop, in Arrowtown.
A foray into beer has proved successful with plans to double down on production in the near future.
Lim's profile as a celebrity chef has opened doors for the couple, particularly in their work with chefs, and their staff are all traditional "foodies" keeping the farmers focused on their final products, he said.
While food production remains the core of their business, they are now open to private weddings and corporate events also.
With a mantra to grow, feed and connect, the event side of the business allows them to share what they are doing with the wider population and tell the story of how food is produced, Bagrie said.
There has also been interest from more traditional farmers, many of whom are "pushing the envelope" in different ways.
"Farmers are intrinsically innovative. You have to be because farming is an extremely competitive market to exist in."
Financial sustainability is important to keep operating, alongside environment and social sustainability, he said.
Protecting the farm for future generations was key and that meant looking after the soil.
"Healthy soil means healthy plants, healthy plants means healthy livestock and healthy livestock means healthy soil," he said.
"It's all circular."