Thinking bold: A peek into the future through vivo's 5G innovation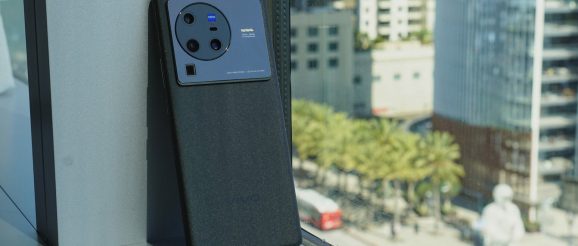 It's not hard to boil 5G down to just a faster way to share data and stay connected. However, for Rakesh Tamrakar, vivo's 5G and 6G Standards Expert, the innovation in connectivity is far from limited to speed. Since joining vivo, one of the largest global smartphone makers, Tamrakar had a bold objective to think ahead and contribute to shaping the global 5G standards, visualizing application scenarios before the first 5G device was even released. Now, he has set his eyes on a very different way of living in the next ten years.
When using his vivo X60 smartphone to take videos and high-quality photos to share with his family and friends quickly on a daily basis, Tamrakar's focus has already turned to imagining how people will be using the next-generation X series device to seamlessly livestream high-quality visuals from anywhere in the world. Today, X series' users can be professional photographers with one simple click. In the future, the smartphone will become more central in people's life, alongside the evolution in technology.
"Over the next 10 years we can expect to see a very different way of life as the wireless technology continues to evolve," explains Tamrakar, who serves as 5G and 6G standards expert at vivo, overseeing 5G physical layer system design, research, and standardization. "We need to have a clear vision for how to better serve our consumers, help them benefit from the technology and new services that are going to be enabled by 5G."
Tamrakar's X60 may not be the newest flagship phone on the market, but it shows just how long vivo has been committed to 5G. Unveiled in 2020, the vivo X50 lineup was the first lineup launched internationally under the X series to run on 5G, after the X30 series 5G phones were launched in China — and the technology has only continued to grow and improve to make the 5G experience more than just speed. One significant improvement is demonstrated by the slim and light phones under the X70 series. Thanks to the 3D stacking technology that optimizes the internal layout and frees up more space, vivo's 5G phones stay slim and offer a better grip.
When it comes to the recently launched X80 series, the powerful photography flagship, vivo's years of investment in 5G R&D have continued to show incredible value. With a particular focus on user efficiency, the X80 Pro has an upgraded cooling system and stacking technology that ensures all users can have the best of both worlds — a fast and uninterrupted powerhouse device.
"5G doesn't make smartphone camera faster, but people can use our smartphones to take professional-level videos and photographs and they can upload them instantly, despite the larger-than-usual file size. This wasn't the case just a few years ago when 4G LTE smartphones were the bulk of the market," Tamrakar says. The feeling of using 5G for the first time was "really amazing," he says when recalling the incredible experience looking at the unprecedented download and upload speed.
The 5G technology promises a world of "connected everything," and the smartphone is at the forefront of its commercialization. Starting from 2018 when Tamrakar joined vivo, he and more than 100 other global 5G standard experts at the vivo Communications Research Institute were tasked with optimizing the 5G experience across vivo devices at every price point to bring the advantages of this technology to a broad range of consumers.
In addition to putting consumers at the center, vivo's 5G expert also believes in the benefits of working with global peers in driving the sustainable development of the industry. Tamrakar is one of the lead delegates representing vivo in the Third Generation Partnership Project (3GPP), a consortium of international telecom standards organizations that provide a stable platform for collaboration. He has also chaired multiple 3GPP RAN1 sessions (which specify the physical layer of radio interfaces) that resulted in the successful standardization of MIMO (Multiple Input Multiple Output) and NR (New Radio) on unlicensed spectrum technologies.
"We all come with our own ideas and fight to get them across. But interestingly, the 3GPP community always comes to a very good compromise, one solution which is acceptable for everyone," Tamrakar explains. "At the end, everyone is happy, and everyone is unhappy at the same time. Everyone is unhappy as their ideas were not accepted in full, but also everyone is happy for contributing to make one standard. This is a very interesting part of my work."
It's easy to say that 5G has the potential to change the world with its speed. It fills, as Tamrakar points out, "this exponentially growing need for a lot of data transmission that 4G networks cannot handle." The speed boost sounds like a strong case for 5G on its own, but for a consumer-centered company like vivo, it's all about the experiences made possible by this technology.
Tamrakar and his team look ahead to what the 5G services and consumer expectations will look like in the next two years, and then focus their R&D efforts on the innovation needed to make these new product experiences possible. It's not an easy task, but solving challenges is business-as-usual for the team. "We are driven by new challenges," Tamrakar says. "Once you overcome the challenges and you see the technology applied in real products, you can feel the reward."
Life as a standards expert at vivo can be quite exciting. Tamrakar's team is tasked with challenges like making sure 5G smartphones can fit into nearly the same footprint as the 4G LTE devices before them. He points out that, "people have to carry this [device] all the time." While thicker, heavier phones were once the norm, now it's all about staying at the cutting edge of R&D technology. Tamrakar applauds the research team's work in developing a 3D stacking method, where the PCB boards are stacked and compressed to offer more room for key components like battery and 5G.
Mastering a smartphone's battery life is one of the biggest challenges for the team, after all, the battery size has a physical limitation. As a vivo expert and author of numerous technical papers on 3G, 4G, and 5G standards, Tamrakar had hands-on experience with the power requirements of 5G long before the public. He and his team were able to identify key consumer needs, like those of gamers: a fast connection, low latency, and also low battery consumption. Those are easy needs to notice — almost all users want reliable connection and battery optimizations.
"If you first look at the long-term goals, we will think ahead of our consumers and think of the technologies that the consumer has never thought about. But in terms of setting our mid-term goals, we look to our consumers for immediate feedback, and focus on solving those challenges first," he says.
vivo doesn't just aspire to be an industry leader. In fact, Tamrakar is more proud of the team's determination to contribute to the development of society with its technology. He has his eyes set on people's way of living in the next 10 years. It's the hope of achieving what's next that keeps him looking forward.
When you think about the fact that vivo set up its 5G Research Institute in 2016, it's even more remarkable to see where the X series is at. Tamrakar and the other experts are already focused on the next two years and identifying new challenges. He describes the hunt for new obstacles as one of the key drivers for the team.
Today, vivo has an endless commitment to what's next and has already published multiple whitepapers digging into the potential of 6G. Tamrakar says that 5G has evolved in Release 15, 16, 17, and Release 18 now, the latest iteration of 3GPP 5G standards. As it nears one of its final stages, the team has turned its views to 6G and the early stages of research. Tamrakar details the process of comparing data speed and consumption and even hypothesized the possibility of 3D videos.
Of course, this isn't to say that you should skip the 5G generation of smartphones. Tamrakar explains that there are "like 10 or 15 different technologies as potential candidate technologies for 6G." They just haven't been cracked yet. We'll just have to see where a love of learning and a passion for curiosity take Rakesh Tamrakar and the team at vivo next.