TitletownTech: Craig Dickman leads Packers, Mircrosoft innovation hub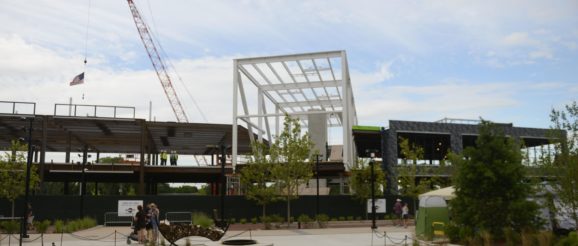 The park and plaza within Green Bay Packers Titletown District opened to the public on Sept. 15, 2017. The 10-acre space features three playgrounds, a full-sized football field, and sections for games such as foosball, table tennis and horseshoes. Sarah Kloepping/USA TODAY NETWORK-Wisconsin
ASHWAUBENON – TitletownTech has hired Breakthrough Fuel founder Craig Dickman to serve as the innovation center's managing director.
The Green Bay Packers and Microsoft made the joint announcement Wednesday morning as part of a deeper dive into what will happen inside the 46,000-square-foot building.
Dickman founded Breakthrough Fuel in 2004 to help reduce logistics costs for shippers and trucking companies. He ceded the CEO position to Doug Mueller in January to launch a new startup firm, Stage Three. He said he shelved Stage Three when the Packers offered him the opportunity to lead TitletownTech's operations.
Dickman's role will be to support entrepreneurs and innovation and energize the startup community in northeastern Wisconsin. The TitletownTech staff will work with companies to ramp up, help turn ideas into products or businesses, connect Green Bay with recognized technology hubs and raise the region's profile relation to innovation, technology and startup development.
TitletownTech aims to do this via three programs:
TitletownTech Venture Fund – Seeded by $5 million contributions from both Microsoft and the Packers that will invest in startup companies.
TitletownTech Venture Studio – A space for Dickman and his staff to turn ideas and concepts into businesses with access to resources, investment and coaching.
TitletownTech Innovation Lab – A space where established companies can present a problem or issue for entrepreneurs to try and develop a new business around.
Microsoft and the Packers have each committed $5 million to the venture fund and are in talks with other companies about additional commitments of time, money and resources for the center. The fund will cover TitletownTech's operating costs and investments in startup businesses that grow out of the venture studio or innovation lab.
Wednesday's announcement brought more details about TitletownTech into focus. Miron Construction started work on the building, designed by SGA Architecture, in early 2018. This summer, the University of Wisconsin System and UW-Green Bay announced they would place an "entrepreneur in residence" at TitletownTech to help entrepreneurs and businesses make connections. 
TitletownTech operations will take up only half of the building's second floor. The rest will house the offices of Titletown Development, the Packers' real estate development arm. The building's unique shape also enabled designers to create rooftop patio that faces Lambeau Field.
Packers officials on Wednesday morning said the building's first floor will be leased to commercial tenants, which should increase foot traffic into the building. The Packers are in negotiations with several potential tenants.
Read or Share this story: https://gbpg.net/2NnVcpH
Share This Story!
Let friends in your social network know what you are reading about
TitletownTech tabs Craig Dickman as managing director of Packers, Microsoft innovation hub
The Packers and Microsoft provided more details about what will go in the new building, who will run it and the innovation center's goals.
Sent!
A link has been sent to your friend's email address.
Posted!
A link has been posted to your Facebook feed.