Tradition and Innovation Meet Head-on at Independence Brewing Co.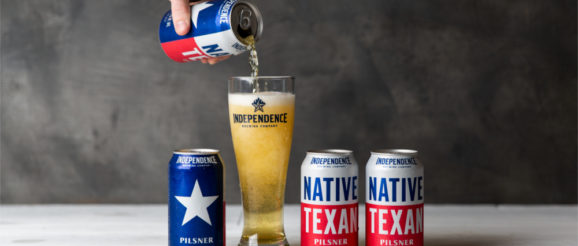 Independence Brewing's newest year-round offering, Native Texan
These days, it feels like craft beer is ruled by the almighty trend. Be it session IPAs a few years back or the current haze craze, breweries seem to scramble to meet the whims of the drinking public. After all, IPAs that taste like mimosas are the hot new thing. Why not jump on the bandwagon and give people what they crave?
Independence Brewing Co. has a different philosophy. The local craft brewery delivers consistent, quality products peppered with original ideas and new ways of thinking. By blending expert craftsmanship with a Texan never-say-die attitude, this elder statesman of the Austin beer scene continues to impress with rock solid traditions and inventive off-shoots.
Independence Brewing's Storied History
Independence Brewing's taproom is industrial yet welcoming (Credit: Julia Keim)
With a pedigree as rich as Independence Brewing's, why wouldn't you stick with tradition? Founder Amy Cartwright and her husband Rob started the southeast Austin brewery in 2004. Armed with an archaic 15-barrel, '80s-era brew system found in a desert and excellent home brew recipes, the pair began making mainstays, like the ubiquitous Austin Amber.
Over the years, the taproom evolved from a once-a-month sampling party to a full-fledged watering hole. Large canopies cover a myriad of outdoor benches and chairs, while the interior maintains a warehouse feel that's gritty and, at the same time, warm and welcoming. Add to the mix a fantastic staff, and you have a taproom worth visiting again and again.
Legendary Beers, Timeless Flavor
Austin Amber is one of Independence Brewing's earliest beers (Credit: Julia Keim)
But what would a brewery be without the beer? True to Cartwright's vision, the core seven beers in the Independence lineup have been local mainstays since their inception:
Austin Amber – Malt-forward amber ale with notes of subtle caramel and rich, yet accessible malt.
Power & Light – Clean and crisp with a subtle dryness at the end. A rockstar pale ale.
Liberty Lunch – A blend of piney and tropical hops gives this relatively low ABV IPA bite and balance.
Stash IPA – Dank and funky, this IPA is one of the few traditional West Coast IPAs on the market.
Convict Hill – One of the only local year-long stouts on the market. Rich, deep, and chocolatey.
Redbud Berliner Weisse – Sour and tart with a low ABV, yet full of flavor.
High Boy – Juicy, rich, and smooth, this double IPA is chock-full of resinous hops and deep body.
New to the Lineup: Native Texan
Native Texan, once a seasonal style, is now available year-round
This pilsner was first introduced as a seasonal style. But a meteoric rise in popularity prompted the team to bump up production and make Native Texan a year-round staple. True to style, the flavor profile is crisp and light up front with a long, dry linger. For me, the buzz phrase was refreshing with a deeper body found in other lighter style beers. The result is a well-rounded mouth feel that slots in with barbecues, river floats, and summertime chillin'.
Independence is also known for fun and funky one-offs. Many of these styles never make it out of the brewery, thanks to a handy 3.5-barrel prototype system used for making mad concoctions. While at the brewery, I tried a deliciously rich and tart blackberry saison, and an advance tasting of a tangerine varietal of High Boy.
While both varieties are destined for release at some point in the near future, visiting the taproom is the best way to try these sensational styles.
Enduring Hospitality, Timeless Flavor
View this post on Instagram
After my conversation with Cartwright, I got beer geeky with head brewer Brannon Radicke. We talked yeast strains and souring techniques. His rise from a weekend brewer to his current role occurred the summer Redbud invaded Austin, with a daily commute from San Antonio to work at the brewery. He did that five times a week for four years.
I also hung out at the bar and chatted with quality control manager Pat Young and cellerman Sean Sullivan. Sullivan and I traded Abbott and Costello references, while Young waxed poetic about the effect rainwater can have on beer Ph levels. And all the while I sipped saison to a soundtrack of gangsta rap and classic rock, courtesy of a bipolar Spotify playlist.
What's My Point?
Tap wall at Independence Brewing Co.
Independence Brewing Co. is a place you don't want to leave, and it's not just because they serve beer. There's a sense of camaraderie and community within the relatively small taproom that's exciting, and infectious.
Making good on the Cartwrights' vision of exceptional beer served with Texas hospitality, Independence is one of Austin's tentpole breweries. After knocking down trendy juice bombs and slamming mocha latte imperial stouts, come back to this humble southeast taproom for down-to-earth deliciousness.
3913 Todd Lane #607 – Website

@BillTuckerTSP wants to know:
What's your favorite Independence Brewing Co. beer?
The original version of this article was published May 2, 2013.
***
We always have unique content on the Austinot, and we love to give things away. You know, like CDs, event tickets and other cool stuff. We only send out our Best of the Austinot newsletter two times/month. It's where we give you a recap of our best articles and give stuff away. Interested? 
The post Tradition and Innovation Meet Head-on at Independence Brewing Co. appeared first on The Austinot