Transparency, Empowerment, Geniality – Innovation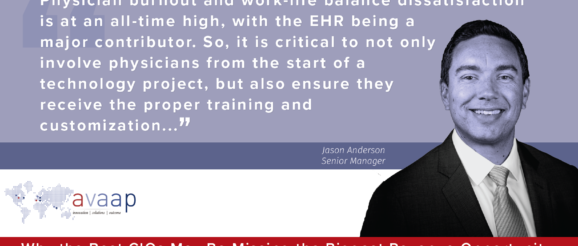 Date: September 18, 2018
Becker's Healthcare caught up with Jason Anderson, senior manager of Avaap, who will speak during the Becker's Hospital Review 4th Annual Health IT + Revenue Cycle Conference on "Why the Best CIOs May Be Missing the Biggest Revenue Opportunity," at 1:45 p.m. Wednesday, Sept. 19. Learn more about the event and register to attend in Chicago.
Question: How does your organization gain physician buy-in when it is implementing a new technology or solution?
Jason Anderson: 
Avaap's mission is helping healthcare organizations implement or optimize their EHR for increased clinician satisfaction and to support the goal of safer patient care. We always place added emphasis on workflow and system design that will improve physician efficiency. Physician burnout and work-life balance dissatisfaction is at an all-time high, with the EHR being a major contributor, so it is critical to not only involve physicians from the start of a technology project, but also ensure they receive the proper training and customization that is often required to make full use of the EHR. We made it a point in our EHR projects to not just include system analysts or EHR-knowledgeable trainers, but also include physicians-turned-informaticists who are both EHR experts and also understand the language of practicing medicine. Through one-on-one shadowing, training and personalization, the physician informaticists are able to break down the communication barrier that IT folks often encounter and accelerate the adoption of key EHR efficiency tools that help reduce physician time spent in the EHR while also improving documentation, quality metrics and revenue capture. Physicians see value in the peer-to-peer dynamic, which supports physician buy-in at the outset.
Q: What is the most exciting thing happening in health IT right now? And what is the most overrated health IT trend?
JA: For me, both one of the most exciting things, and maybe not overrated but rather unproven on a large scale, is the "internet of things" in healthcare. The explosion of devices and influx of mobile applications available for consumers to collect patient-generated data has provided huge opportunities for expanding precision medicine, managing care outside of the hospital and incorporating preventive medicine in day-to-day life. Internet of things also provides healthcare organizations with huge potential for improving the patient experience at their organization, making it a market differentiator for those organizations willing to invest. The ultimate challenge that still comes into play is that healthcare is a commodity that no one wants until they inevitably need it. As a patient or consumer in that business, wide-scale adoption of these tools is difficult to justify until it can literally save your life. On top of that, recent studies have found that clinical effectiveness of monitoring tools and other internet of things initiatives haven't produced the return on investment anticipated. Despite that pessimism, as a society this trend is unavoidable and its propagation into healthcare will continue to evolve and improve for the betterment of both patient and provider. Areas for organizations to capitalize on will be in improving the patient experience during care delivery and nutrition or diet-based applications for both preventative and long-term chronic care.
Q: How do you promote innovation within your organization?
JA: Innovation begins with creating a company culture that supports individual growth, creative thinking and a sense of ownership. I have found that many of the innovations at companies I've worked for or at clients I've worked with don't start with having the top leaders sit in a room and try to come up with ideas all day. Rather, it is the ideas or issues that staff identify, and due to the company culture, they have a platform to discuss these ideas and solutions with leaders and other colleagues. It is then that leadership can help transform ideas into reality and develop a go-to-market strategy around it. Avaap promotes innovation through transparency, empowerment and geniality among team members. With all the innovation happening in the industry and new technologies appearing every day, it is especially important for leaders to tap the younger generations of the workforce for how these concepts can disrupt and improve the healthcare industry, while staying rooted in the reality of the industry and mission. Avaap has an active intern program that pairs seasoned industry veterans with members of the future workforce to ensure knowledge transfer goes both ways and that ideas benefit from fresh perspectives, new ways of thinking, and personal and professional growth.