UAE companies bank on creativity, innovation to lure and retain talent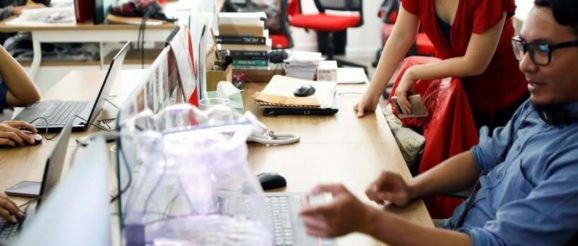 As the average age of the UAE workforce gets younger, businesses across the country need to redefine their approach towards allowing creativity and innovation, especially as more millennials enter the workforce. 
Globally, over 55 per cent of workers say that they would like to be more creative in their job, yet face several barriers that limit their progress, new research by Steelcase has found. The research revealed that 37 per cent of workers said that the biggest hindrance to workplace creativity is organisational process. In addition, 36 per cent pointed to existing workloads as a barrier to them being more creative in their roles.
Other factors which employees identified as being barriers included working in an uninspiring space at 20 per cent, outdated technology at 20 per cent, and a lack of guidance and permission to be creative at 19 per cent.
Nelly Boustany, director of digital human resources experience for Europe, the Middle East and Africa at SAP, noted that the UAE and Dubai governments are actively creating youth hubs and innovation spaces to promote more creativity in the workplace.
"Innovation is key for future sustainable business, with the companies that provide spaces and foster a culture that supports the workforce to collaborate and innovate will gain market competitiveness," she said. "In the face of the disruptive digital economy, UAE organisations need to stay relevant by transforming their human resources from business advisors into strategic partners that can drive business outcomes. UAE organisations must be ready to build a workplace culture where employees have buy-in and can find greater purpose to their jobs."
She further explained that creativity and innovation are major parts of the corporate culture, which job-seekers look for – though not the only one.
"In order to meet a job-seeker's needs today, UAE organisations should take a three-pronged approach to becoming innovation-led and creativity-led organisations: instilling in employees a sense of purpose, developing cross-generational intelligence in the workplace and establishing a culture of coaching and performance feedback."
A recent study commissioned by Emirates Global Aluminium has shown that employees across the UAE feel as though they have a personal responsibility to support their employers by coming up with innovative new ways of working. Nearly 74 per cent agreed that this was something that should simply be expected of them at their places of work. Despite this, many reported that they did not feel empowered to innovate. Around 59 per cent said they had an innovative idea in the past year, but were unsure of how to submit or whom to tell.
This is especially prevalent among younger employees in the workplace, says Natalja Kissina, vice-presidnet of human resources for the Gulf and Pakistan at Schneider Electric.
"Given that the average age of the UAE workforce is getting younger, millennials and Generation Z workers are seeking opportunities that will offer them to be more creative and entrepreneurial in their work," she said.
"UAE job-seekers value creativity when seeking to change jobs, so they can fast-track their career and personal growth. When talking to career candidates, I am often asked questions about working culture and especially on time flexibility, office culture and opportunities that exist in the company to collaborate and connect. These become very important considerations for candidates."
She added: "In these ever-changing dynamics, it is important for the businesses to create a workplace that is diverse and inclusive, and where employees feels valued and can contribute with their creativity and entrepreneurship. From this perspective, it is pivotal that the workspace itself offer opportunities for better collaboration, teamwork and relationship. For example, the physical manifestation of the office layout, such as an open workspace, is one of the enablers for such work culture."
Gavin Tay, research director at Gartner, noted that the UAE government has taken great strides to recognise creativity and innovation as critical milestones for social and economic development. Initiatives such as UAE Vision 2021, Area 2071, and the national strategy for advanced innovation are representative of the UAE's government efforts, he said.
"More specifically, the government in Dubai has a vision to make it the happiest city on earth; although, the culture of most UAE organisations remains the biggest inhibitor that causes a sluggish reaction to such notions of creativity. The interconnection of people, processes and policies that has driven everyday business for years will more often overrule resulting in the status quo," he noted.
As UAE job-seekers seek to fulfill their basic hierarchy of needs and the UAE's huge emphasis on artificial intelligence technologies to drive competitiveness, Tay noted that we can expect workers to become increasingly disengaged in spite of any purposeful intent.
"AI, robotics and automation will require employees to build new competencies and to embrace new ways of working. AI should be viewed as capable of taking the monotony out of work, employees can unlock latent skills by shifting focus to more creative, non-routine aspects of the job. Organisational leaders responsible for the digital workplace should amplify the digital dexterity of the workforce through the combination of human abilities and artificial intelligence," he said.
Rohma Sadaqat
I am a reporter and sub-editor on the Business desk at Khaleej Times. I mainly cover and write articles on the UAE's retail, hospitality, travel, and tourism sectors.Originally from Lahore, I have been living in the UAE for more than 20 years. I graduated with a BA in Mass Communication, with a concentration in Journalism, and a double minor in History and International Studies from the American University of Sharjah.If you see me out and about on assignment in Dubai, feel free to stop me, say hello, and we can chat about the latest kitten videos on YouTube.
ERROR: Macro /ads/dfp-ad-article-new is missing!
Over 55% of workers globally say that they would like to be more creative in their job