UCO studio inspires innovation, collaboration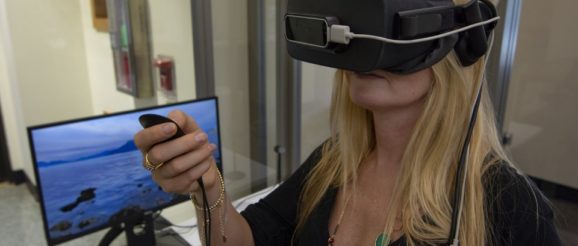 UCO studio inspires innovation, collaboration
By Eriech Tapia For The Oklahoman
EDMOND — The sound of heavy machinery and construction crews fill the campus of the University of Central Oklahoma, but in the quietest building, construction on the new Innovation Studio has just finished.
The area inside the Max Chambers Library introduces space for people to explore virtual reality, print 3-D projects and record themselves in front of a green screen for projects.
"We want students to be able to come here and be innovative and creative," said Elizabeth Jones, director of Library Technology and Data Management.
"I do not think the typical engineering person thinks of engineering and library in the same sentence," she said.
Over the summer, library officials brought resources together and began building the Innovation Studio, a high-tech space designed for students and the community to use.
An open house will be held on Oct. 24 for the community, and but it's open now for students.
When news of the new studio reached David Chapman, finance and real estate professor, he scheduled a meeting with one of England's pioneers in the FabLab industry and she came to UCO to speak.
"We need to learn at UCO how to have a better impact on the community," Chapman said. "This is something that can have an impact on our community."
Last week, Sinead Ouillon collaborated with library officials on ways to continue to add new technology to the space and keep it relevant for the audience it will serve.
Chapman has taken groups of students to England for several years to study Ouillon's FabLab and learn how she is transforming the city.
At her studio in Coventry, England, she has worked with the local city council and university to create a space open for students and those in the community to learn new skills.
Her FabLab opened in 2016 and has already brought in millions of dollars in funding to help her operations continue and allow her to buy new equipment. Although, she said it took time to build up her studio.
Ouillon even created a program that attracted more than 400 older citizens to teach others about engineering and other skills, which she said keeps them from sitting around and doing nothing.
"Local people need to feel ownership of the space," Ouillon said.
Rose State College has a FabLab that focuses mostly on 3-D printing, while Jones is hoping to take UCO's studio on a more technological route.
"I think these types of spaces will expand and become more common in libraries," Jones said. "The library is still always going to serve its traditional purpose, but we are moving forward with the technology."
There are even vinyl printers to create packaging and anything the mind can come up with, Jones said.
"We are getting advances in technology all of the time," Jones said.
Funding for the more than $100,000 project came from years of small amounts of extra library funds, but Jones is hoping the studio can continue to expand.
Hours for the Innovation Studio are from 10 a.m. to 8 p.m. Mondays through Thursdays; 10 a.m. to 6 p.m. Fridays and Saturdays; and noon to 8 p.m. Sundays.
Those wishing to collaborate with the Innovation Studio at UCO may contact Luci Seem at [email protected] or call the studio at 405-974-5456.