UF Health Neurology and Neurosurgery Ranked 30th in the Country by U.S. News and World Report     » Inspiring Innovation » UF Health » University of Florida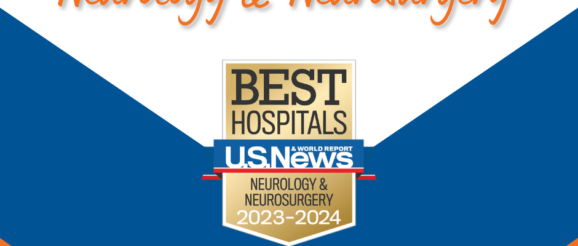 University of Florida Health Shands Hospital, a leader in health care in Florida, was again recognized by U.S. News & World Report's Best Hospitals survey for excellence in adult patient care, with five medical specialties ranked.
Combined with the four pediatric specialties ranked in the nation's top 50 by U.S. News & World Report in June, UF Health Shands has nine specialties recognized.
Neurology and neurosurgery is ranked No. 30 in the country this year.
"This is a tremendous accomplishment based on the hard work, commitment and dedication of each and every person who contributes to taking care of patients with neurologic and neurosurgical conditions," said Brian Hoh, M.D., M.B.A., chair of the department of neurosurgery.
Michael Jaffee, M.D., chair of the department of neurology, also attributes this achievement to the hardworking neuromedicine health care teams.
"Our faculty members have an amazing combination of expertise, passion and a drive to collaborate, and when you put that all together, it creates a culture that allows us to provide the highest quality of care, research and education."
U.S. News ranks more than 4,500 hospitals nationally based on a range of measures, including patient outcomes such as survival and discharge to home, nurse staffing, the patient experience, expert opinion, and clinical services.
Among all the hospitals ranked, fewer than 200 have more than one specialty placed in the nation's top 50.
UF Health Shands has maintained a strong presence in the U.S. News rankings for more than a decade.
About UF Health Neurology and Neurosurgery:
UF Health neurologists and neurosurgeons at UF Health Shands Hospital offer specialized comprehensive care for neurological conditions. Our team of board-certified neurological and neurosurgical experts provides consults, evaluations and treatment for people with neurological problems who are seeking a higher level of care. We are a medical destination for patients from around the world.
Between neurology and neurosurgery, we offer dozens of clinical trials, including first-in-human trials and translational research trials that are not available elsewhere for many types of neurological conditions. Currently, UF's Department of Neurosurgery ranks third among public universities and fourth overall in the country in NIH research funding published by the Blue Ridge Institute for Medical Research. Neurology and neuroscience rank in the top 5 among all universities (public and private).