University of Michigan Approves $250M Center for Innovation in Detroit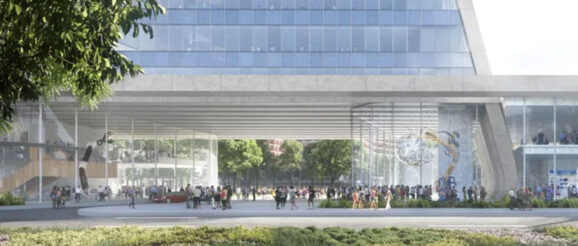 A $100 million gift from Stephen M. Ross, founder and chairman of Related Cos. in New York and a nephew of the late industrialist Max Fisher, plus another $100 million from the state of Michigan, will help bring forward the $250 million U-M Center for Innovation in downtown Detroit (UMCI).
On Thursday, the University of Michigan Board of Regents approved agreements related to land donation and purchases, and voted in favor of:
A gift agreement with Ross for $100 million paid out over 10 years.
A donation of 2.08 acres at the intersection of Grand River Avenue and West Columbia Street from Olympia Development of Michigan on which to build the UMCI and the $9.6 million purchase of 1.18-acres across from the UMCI on which to build a parking structure.
Proceeding with the project and hiring the architectural firm of Kohn, Pedersen, Fox to design the six-story building.
UMCI will be a world-class research, education, and entrepreneurship center designed to advance innovation and talent-focused community development to propel city, region, and statewide job creation and inclusive economic growth by stimulating economic development in Detroit.
"UMCI is essential to our future, and that's why I'm so excited about today's decision by the Board of Regents," says Santa J. Ono, president of U-M. "I'm also incredibly grateful to the state of Michigan for its $100 million grant, and to our many other supporters and friends and partners who are making this future possible.
"Our founding as a university traces back to Detroit in 1817, so it's critical to me that we are more than the University of Michigan, we are also the University for Michigan."
The university will break ground on the UMCI by the end of the year. Approval of the project also means a director can be hired to help shape the center's offerings.
The UMCI is expected to take three years to build at a cost of $250 million. It will be funded with the Ross gift plus $100 million from the state of Michigan. An additional $50 million will be raised from donors, says Geoffrey Chatas, executive vice president and CFO at U-M.
"The center is designed to advance innovation and talent-focused community development to enhance job creation in the region and propel economic growth in the great city of Detroit," Chatas says. "We are grateful for the tremendous support given to this initiative by both the state of Michigan and Stephen Ross, and we are committed to ensuring these investments in Detroit and the university make a lasting impact."
UMCI will be built to accommodate the academic and community programs including three distinct types of activity — graduate education, talent-based community development and community engagement — all in the service of economic development and job growth for Detroit.
Provost Laurie McCauley says graduate programs would focus on technology, robotics, sustainability and computer science with inaugural degrees in robotics and electrical engineering sponsored by the College of Engineering, urban technology from Taubman College of Architecture and Urban Planning, and sustainability and just transitions from the School for Environment and Sustainability.
"We look forward to deepening our connections with Detroit through service and education, and to continued partnership and engagement across the Detroit community as this exciting endeavor moves forward," McCauley says.
The center will increase U-M's ability to support academic and research activity in the city while sparking more engagement with the Detroit community from faculty and students, and will support ongoing university programs for Detroit K-12 students such as the Michigan Engineering Zone and ArcPrep.
In addition to the academic programs, the Center for Innovation also will provide noncredit-based talent development programs that will cover in-demand skill areas, such as programming, data science, entrepreneurship, sustainability, and leadership.
"These efforts have already begun this year, including a series of successful youth camps and adult learning programs offered to Detroit residents in the form of the 'Saturdays in the D' program. We look forward to hosting these activities in the U-M Center for Innovation once constructed," McCauley says.
Baird noted that with this donation, Ross has given more than $460 million to U-M.
"Mr. Ross has deep family roots in Detroit, and he is incredibly committed to both the university and the Michigan community," Baird says. "From its onset, he has been a stalwart supporter of this very exciting opportunity for U-M, Detroit and the state of Michigan."
Regents also approved $20 million from the overall project budget to go for early bids to specialty contractors and for site preparation. Regents will be asked to approve the remaining construction contracts and schedule when the schematic design is presented for approval, Chatas says.
Chatas says the early work would include design assistance on the exterior wall system along with mechanical, electrical, and plumbing systems.
He adds that the UMCI would be the first of three buildings to go up on the four-acre property owned by Olympia. The land not being used by UMCI would allow for two other buildings to be constructed by a developer at a future date.
As UMCI proceeds, it also presents opportunities for the Rackham Memorial building, located in Detroit's Midtown, Chatas says. It could offer a chance to collaborate with community partners in new ways.
"We are excited to continue the design, planning and programming process for Rackham Detroit, which is another example of U-M's commitment to having a positive impact on the people of Detroit," Chatas says.
Regents approved plans to renovate the Rackham building in December 2021, along with committing $40 million to complete the project.
For more information about the UMCI, visit here.
To read a DBusiness cover story about Ross, visit here.
The post University of Michigan Approves $250M Center for Innovation in Detroit appeared first on DBusiness Magazine.