UNLEASH World analyst takeaways: Community, innovation and AI | UNLEASH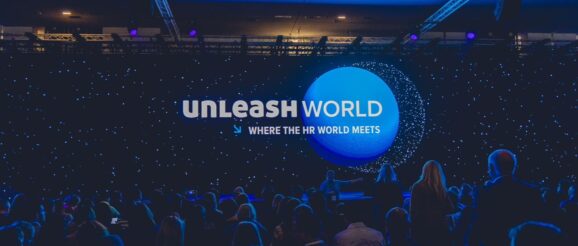 This time last week, UNLEASH World 2023 was in full swing.
Across two days at the Paris Convention Center, more than 200 of the leading voices from the world of HR shared their perspectives on the future of tech and the workplace.
Not only did we have HR leaders and CEOs from the likes of L'Oréal, Airbus, UNHCR, LEGO, Lidl, Carrefour and HSBC, but the more than 4,000 attendees in Paris were treated to the perspectives of the sector's top analysts.
We opened the whole show with a bang: HR tech guru Josh Bersin.
Kathi Enderes, SVP at The Josh Bersin Company, David Green, UNLEASH MC and executive director of Insight222, Aptitude Research founder Madeline Laurano and Jess Von Bank from Mercer Leapgen did a fantastic job moderating our main stages.
Then we had the joy of having Singularity University's Gary Bolles close out the whole conference.
His clarion call was: "Go forth and connect…Events like this remind us of the importance of banding together."
The UNLEASH editorial team was keen to take a deeper look into show, and find out what new things the attending analysts themselves learnt at UNLEASH World 2023.
What were their main takeaways and highlights? What are the themes that are shaping the world of work in 2023 and beyond?
The HR content and vibes were unmatched
Speaking exclusively with UNLEASH, Enderes said the highlight of the show was the CEO panel on Stage One on day one.
She described it as "amazing" to hear the deputy CEO of L'Oréal, Barbara Lavernos, speak so openly about HR, and its role in organizations.
Lavernos stated on stage that the CEO's most trusted advisor today is not the CFO or the CIO, it is the CHRO.
This type of exposure doesn't happen a lot – Enderes shares that she has never seen a business CEO (rather than a vendor CEO) do a 30 minute session on HR at a HR conference – "for HR professionals, that's very powerful".
McLean & Company's principal director of HR research, Janet Clarey, also notes that the "variety of speakers and ideas" was a key highlight of UNLEASH World 2023.
Standout sessions for Clarey were keynotes from Muriel Pénicaud and Daniel Thorniley, Salim Ismail's exponential organization session, and Roy Baladi from Jobs for Humanity's talk on inclusion.
"You could feel the creative vibe and see it in the packed sessions" – engagement was top tier at the show this year.
Kyle Lagunas, head of strategy at Aptitude Research, echoes this.
For him, the value of attending UNLEASH World for HR leaders is "obvious" – "the audience came to learn, and they were not disappointed.
"Every single session was packed, including breakouts, main stage keynotes and solution spotlights."
"The content the UNLEASH team worked so hard to put together was just spot on – and the speakers they curated were compelling and expert. The vibes at the show this year were fire!"
What makes UNLEASH shows standout, according to Lagunas, is how "discerning and determined" the audience is to find the answers to the problems they are facing.
"The questions they ask cut right to the heart of things. People came to learn, which demonstrated an appetite for innovation that was super energizing," he adds.
Community is UNLEASH's secret sauce
Of course, attendees gained so much insight from the content and sessions on offer at the show, but there was also so much for them to learn from connecting and talking to their peers.
The conversations happening on-site was another standout for Enderes, as well as Fosway Group's CEO David Wilson.
The main value of the show for HR leaders, according to Wilson, was "the quality of conversations they can have at the show – yes with the speakers, but also with each other" and vendors.
Wilson's colleague, Sven Elbert, head analyst services at Fosway Group, adds: "UNLEASH is a great place for HR decision-makers to get updated on the very latest trends. It is also easy to connect to the HR tech industry as most international vendors have a presence."
Enderes continues: "The conversations I've had with HR leaders here have been fantastic", and all of them were saying the same thing that the "level of conversation, the level of sessions" is simply at a new height.
"The kind of questions that people ask is different."
She adds: "Every single vendor I've talked to said it has been totally worth our time – the conversations they've had are very valuable, very deep and that they've been very busy."
H3 HR Advisor's founder and principal analyst Trish Steed also talked about "warmth" being UNLEASH's secret sauce.
"With the rapid pace of change in business today, it's easy to feel overwhelmed or uninformed. UNLEASH provides a place of community where everyone feels comfortable to learn from each other," Steed shares.
But UNLEASH World 2023 also provides a place to shine a light on the role of technology to not replace, but to enhance, human connection.
"Technology provides the tools to amplify and simplify what we do as people. UNLEASH is the place where you feel included and connected to better understand how technology can enhance your business," adds Steed.
AI and the future of tech
For Steed, this was the best UNLEASH event yet!
And the highlight was "seeing first-hand the HR technology innovating that the vendors have ready for the benefit of the workplace".
She continues: "This year, with the advancements in AI, we saw even more innovation in business analytics and speed of things like job description creation, skills recommendations and TA functions thanks to generative AI."
For Fosway Group's Elbert, AI came up in almost every conversation he had at the show. While there is still some immaturity in some applications, "skills continue to be a huge topic where AI is making an impact already".
Enderes from The Josh Bersin Company shares some fascinating insights on AI at UNLEASH.
She shares that HR leaders need to treat AI differently to other tech tools – AI starts with data rather than ending with data.
"The vendors make it look so easy – it always look so slick… so HR practitioners don't know what to believe."
Rebecca Wetteman, CEO and principal analyst at Valoir, shares this view and calls on vendors to step up and "help their clients develop policies and practices that make sure that AI is being used for good".
Overall, the analysts left UNLEASH World 2023 feeling optimistic and energized about the future of HR.
Elbert concludes: "The main highlight was to see the positiveness towards HR, business transformation, and the possibilities that AI provides, despite increasing capital cost and despite economically challenging times."
For Lagunas, "in light of everything going on in the world, but especially in Europe, I was overjoyed to see such a strong turnout on all sides of the ecosystem: practitioners, solution providers and investors".
"The world of HR transformation is alive and well – and good thing, because these waves of global disruption aren't going away.
"We need to be more agile and more resilient than ever before. This week gave me hope that we're ready to face whatever the future holds."