Unleashing The Power Of Innovation In Out-of-Home Advertising– GroupM And Kinetic Bring Programmatic Digtial OOH To Pakistan – UrduPoint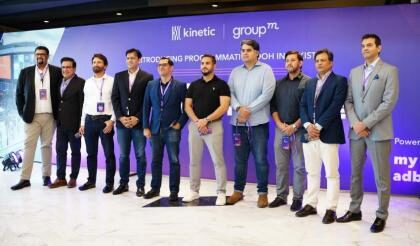 Unleashing the Power of Innovation in Out-of-Home Advertising– GroupM and Kinetic bring Programmatic Digtial OOH to Pakistan
Islamabad (UrduPoint / Pakistan Point News – 22 May, 2023) Groupm and Kinetic, the undisputed industry leaders in media, have announced yet another industry first – the launch of Programmatic Digital Out-Of-Home (DOOH) in Pakistan. This groundbreaking endeavor is set to revolutionize the media and advertising industry in Pakistan, bringing innovation and effectiveness to marketing strategies like never before.
The event was held on May 9th in Lahore at Cue Cinemas to showcase the innovative people-powered marketing model. Attendees witnessed firsthand, the futuristic capabilities of People Powered Marketing, which empowers businesses in Pakistan to reach their desired audiences more effectively.
"As the media industry leader, the onus is on us to continue driving innovation and to bring in the best practices across the globe. Out of Home is a growing and an important touch point in the consumer journey and the introduction of programmatic digital out of home, will help us develop effective Omnichannel strategies for our clients/brands – essentially significantly enhancing ROI of marketing investments", said GroupM CEO, Naveed Asghar.
This strategic partnership between Groupm and Kinetic is expected to bring a new level of innovation and expertise to Pakistan's expanding Digital Out of Home landscape – moving the industry towards precision marketing.
myAdbooker, Netherlands, also joined the event as a strategic partner for developing the supply side platform (SSP) in Pakistan.
"We, at Kinetic, believe in thought leadership, revolutionizing the landscape of Out of Home and bringing the best global technologies to Pakistan. We feel programmatic Digital Out of Home (OOH) system is the future of Out of Home advertising and will prove to be a real game changer for the industry", said Kinetic Pakistan CEO, Ahsan Sheikh.
This new development in the marketing industry has generated excitement and enthusiasm among marketeers. Groupm and Kinetic believe that this innovation is the future of advertising in Pakistan.
"With the introduction of programmatic in Pakistan, we see a high potential of creating more omnichannel campaigns by closing the gap between Digital Out of Home and Online advertising, by providing the compatible Tech for media buying," said myAdbooker CEO, Radjen Van Wilsem.