Unlock Real Transformation with Dell Technologies' software-driven storage innovation – Beforeworks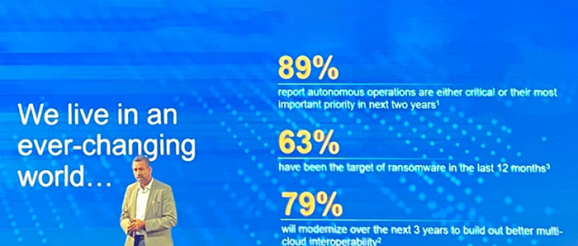 Organizations the world over await the latest innovations from Dell Technologies. And, the technology giant has proved yet again what makes it a global leader.
To deliver a continuously modern storage experience to enterprises in India, Dell today announced its trifecta of new software-driven storage innovations–PowerStore, PowerMax and PowerFlex. With the new offerings, Dell aims to empower businesses to steer their digital transformation journey forward while becoming more adaptive, competitive and innovative.
In an environment of exponential data growth, hybrid cloud adoption and increasing cyber threats, there's a need for next-gen storage architecture that keeps organizations ready for what's next. The latest storage portfolio delivers adaptable architectures, multi-cloud flexibility and end-to-end cyber protection to help businesses overcome challenges related to operational silos, cybersecurity threats and cloud complexity.
With over 500 new high-impact software features, Dell is truly delivering intelligent automation to help simplify IT operations, enhance productivity, reduce risk and enable data-led innovation.
The fastest ramping mid-range storage architecture in industry history, the upgraded PowerStore delivers up to 50% workload performance boost and up to 60% greater capacity. The software enhancements will allow better support and protection for file workloads and a performance boost for new hardware.
PowerMax is the world's most secure mission-critical storage that is fast becoming the industry benchmark for high-end storage. The latest release delivers up to 2x faster performance and 50% better response time to automate storage operations like never before. Designed with robust 'Zero trust' security architectures, the solution safeguards your high-value data at every stage in a potential data breach.
Hailed for its unbounded software-defined infrastructure platform, PowerFlex delivers consistently predictable outcomes for a variety of mission-critical workloads. It helps build a modern foundation to unlock extreme flexibility, massive performance and linear scalability while simplifying end-to-end infrastructure management.
Forge ahead in a dynamic world with the #1 enterprise storage provider
With integrated intelligence, the new storage solutions help you adapt rapidly to change and scale seamlessly to evolving business needs.
Go ahead and unleash new-found levels of automation, security and multi-cloud flexibility. Here's the power that will help you move forward in a fast-transforming world with #TheNextInStorage.