US (CO): As water issues in the West endure, Irrigation Innovation Consortium supports industry, university collaborations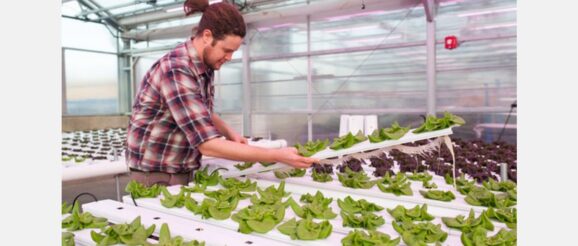 As water becomes increasingly scarce in the American West, a group of university and industry partners has been pursuing innovations in the largest use of this key resource: agricultural irrigation. 
For almost five years, the Irrigation Innovation Consortium has supported industry-university collaboration to improve irrigation technologies, encourage their adoption, and boost effective water management in agricultural and landscape contexts.
History of IIC
A $5 million grant from the nonprofit Foundation for Food and Agriculture Research in 2018 has underpinned the consortium's research and engagement activities. IIC has selected projects proposed through annual competitive research calls to support the co-development and testing of technologies, decision support systems, and advanced irrigation management strategies. Public and private partners bring matching support to their projects, resulting in a total investment of over $10 million in IIC research and outreach activities. More recently, IIC has also been able to leverage knowledge gains and its network to attract additional state and federal funding to expand its reach and impact. 

Colorado State University PhD student Harley Combs examines hydroponically grown lettuce. 
The IIC, headquartered at Colorado State University, includes four other land-grant universities as founding members: the University of Nebraska-Lincoln, Kansas State University, Texas A&M University, and California State University-Fresno. Original founding industry partners are Aqua Engineering, Irrigation Association, JAIN Irrigation Inc, LI-COR, CSU STRATA, Lindsay Corporation, Northern Water Conservation District, Valmont Industries, and Rubicon Water. 
Over time, IIC's network has grown to include more than 165 researchers, research technicians, and students and more than 50 private companies and public entities. (See IIC's current partner list here)
"IIC-supported research results and outreach efforts are contributing to growing interest in the critical role of irrigation and the potential to scale impact and use of advanced management tools and strategies by working with organizations like the U.S. Roundtable for Sustainable Beef, the Irrigation Association, local water utilities, and the California Almond Board," said Amy Kremen, IIC's associate director. Kremen has represented Colorado State University on behalf of multi-institution, multi-state projects focused on advancing knowledge and practice related to irrigation management since 2016, initially with the USDA-NIFA funded Ogallala Water Coordinated Agriculture Project based at CSU and the Colorado Master Irrigator program, before joining the IIC.                                                           
"The audience for the findings and outcomes of IIC's work is large and growing," Kremen said. "It's an exciting space to be in because of relationships, mutual understanding, and expertise being forged in response to great need."
Innovation in the nick of time
Much of IIC's research has focused on addressing water-related challenges of the American West. Here, agricultural irrigation is the largest water user, and pressure to reduce water use is growing as communities navigate sustained drought and decreased supplies of surface and groundwater. 
"Water scarcity, existing or impending water regulation, hotter and drier climate trends – many factors are driving technological and social innovation today," Kremen said. "We must use all the tools at our disposal, harnessing all of the ingenuity, expertise, and systems knowledge available if we are to sustain and support community quality of life and stable agricultural value chains."
Overcoming the adoption gap
With many tech companies jumping into the agricultural and landscape water management space, there's a lot of excitement but often a lack of clarity for end users. The learning curve required to use a new tool effectively – and the associated costs – often are still too high, and the potential benefits of using them are not necessarily obvious. 
While there's a great need and opportunity to update irrigation systems and optimize irrigation management, getting that kind of change is hard, Kremen said. "You can consider what leads to shifts in irrigation management as having four parts, with interconnected technical, practical, economical, and social aspects, including the evolving but ever-present policy and political context. Tools, data, and training need to address those things together. That's a big ask, but that's when meaningful change happens." 
At its core, IIC's mission to "advance adoption" of innovative irrigation tools and strategies has meant finding ways to make data actionable, guiding irrigation application timing and amounts. 
The snapshots listed here highlight some contributions of CSU researchers within IIC's overall portfolio of projects and how their work is supporting new directions in research and outreach.
For more information:
Colorado State University
www.colostate.edu