"USA to Lead" Innovation in Crypto and Blockchain: CFTC Chairman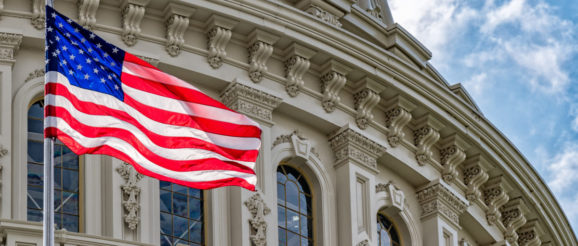 Heath Tarbert, U.S. Commodities Futures Trading Commission (CFTC) chairman, wants the U.S to lead the world in crypto assets and blockchain innovation. The cryptocurrency advocate also expects his agency to oversee ETH futures within six months to a year.
CFTC All in on Crypto
In an interview with Bloomberg, Tarbert discussed the current state of the crypto asset industry from his perspective as a top financial watchdog.
He said he wants the U.S. to take the lead when it comes to crypto assets and blockchain, and encourages innovation in the nascent industry:
"I want the United States of America to lead in this."
This echoes comments made in December, where Tarbert stressed that whoever takes the lead is going to "end up writing the rules of the game."
Ethereum Futures on the Way, What About XRP?
Tarbert also discussed the regulatory future of Ethereum, saying that futures for the second-largest crypto are in the pipeline:
"Certainly, we've seen Bitcoin futures, cash-settled as well as physically-delivered. My guess is that we are going to see ETH futures as well."
As reported by NewsBTC , Tarbert said to expect these ETH futures to come to market "in the next six months to a year."
Under Tarbert's leadership, the CFTC is aiming create a regulated crypto futures market that investors will be able to "rely on" for better "price discovery, hedging and risk management."
This potential addition of ETH to the current Bitcoin futures offerings will not only attract market players who are interested in crypto but want an alternative to buying and holding the coins directly – it's also likely to help bring in institutional investors wary of the hysteria surrounding volatility in the crypto market.
When it comes to XRP, the third-largest cryptocurrency, it's unclear what role the CFTC might play with regards to regulation and/or derivative offerings.
Tarbert said the coin could be classified as a security by the Securities and Exchange Commission (SEC). However, he added that situation is still not clear, and that the crypto asset could be still considered a commodity, thereby in the CFTC's jurisdiction:
"Part of the issue is our jurisdiction we share with the SEC. If it's a security, it falls under their jurisdiction. If it's a commodity, it falls under ours. So we've been working closely with the SEC over the last year or so to really think about which falls in what box."
Although some enthusiasts believe that regulation goes against the decentralized philosophy cryptocurrencies are built on, Tarbert thinks that proper regulation of crypto derivatives will help bring legitimacy and "create a [larger] market for digital assets." The post appeared first on NewsBTC.