Use These 14 Strategies to Encourage Employee Innovation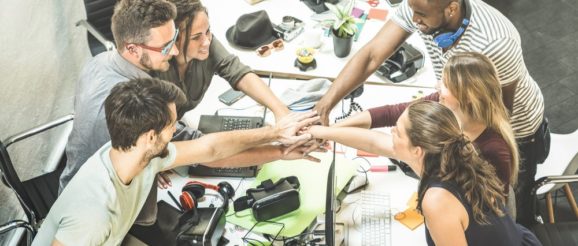 Innovation is essential for any company's success, but it the responsibility of generating new ideas can't fall to one person. It truly takes a team effort to keep coming up with fresh and creative approaches to your business challenges. A panel of Young Entrepreneur Council (YEC) members were asked the below question:
"New ideas are vital for the continued growth of a company. What is a particularly effective way of encouraging innovation from your teams and employees? Why does this approach work so well?"
---
---
How to Encourage Employee Innovation
Here's what YEC community members had to say:
1. Ignore Titles and Let Everyone Share Their Ideas
"We follow the saying, "leave your title at the door." Whenever our team has meetings, everyone is encouraged to offer ideas, regardless of their rank or tenure at the company. This allows for a diverse range of opinions, ideas and perspectives. An intern may have a brilliant idea but may be scared to offer it. This empowers them to have confidence in their idea." ~ Nick Friedman, College Hunks Hauling Junk & Moving
2. Get Out of the Office
"Stepping away from the office with the team can produce innovative ideas. A new physical setting in a comfortable atmosphere can frame a relaxed mind and casual conversation. When this occurs, and when the team is working on something truly innovative to begin with, that's when the ideas start to flow!" ~ Sam Miller, Boston Biomotion
3. Incentivize Revenue-Generating Ideas
"Not only do we have an open forum for our employees to encourage innovation, but any new business ideas that generate revenue will allow the employee to make a portion of those sales. We have built our bonuses based on group and individual performance to encourage those who have innovative ideas an incentive to go for gold!" ~ Amber Lowry, Syssero
---
---
---
---
4. Be Specific About the Ideas You Want to Address
"Ask your team to come up with new ideas in a specific area of your business, not your business as a whole. For example, ask for ways to improve a specific work process or ways to reduce the cost of a specific service. Setting up parameters for a creative process can be incredibly productive." ~ Duran Inci, Optimum7
5. Encourage Process Ownership
"The first step is documenting the process. You can begin with Google Docs before it grows into wikis and intranets. I'm partial to a tool called Gluu, that mixes linkable flowcharts with wiki features with rigid process ownership. Once there's structure, gather input from everybody, but put one person in charge of that process so that nothing becomes paralyzed by analysis." ~ Corey Northcutt, Northcutt Enterprise SEO
6. Build a Culture of Engagement
"Employees are most innovative when they are engaged in their work, that work is meaningful, and they understand the part they play in the company's goals. A culture of engagement depends on employees feeling that they can speak and be heard, which in turn depends on managers who are willing to listen." ~ Vik Patel, Future Hosting
7. Be Open to All Ideas
"Never belittle an idea. The moment you judge a person because of their ideas, they will stop desiring to provide them for you. Keep your environment healthy, and you will avoid the toxicity of bad ideas and good ones being lost." ~ Nicole Munoz, Start Ranking Now
8. Ask Them to Research the Broader Business Landscape
"When employees spend time investigating how other businesses in different industries operate, they can draw inspiration from what they see and come up with their own unique ways to apply what they've learned to your business. While you can also have them keep an eye on the competition, you must encourage them to explore how other companies innovate to help your business truly differentiate itself." ~ Firas Kittaneh, Amerisleep
---
---
---
---
9. Get Them in Front of Your Customers
"Customer research doesn't stop once you've built the product. You should regularly put your team in front of customers to learn about their evolving journeys. How does your product fit into their lives? What do they wish it could do? What other problems do they have? If they could wave a magic wand, what would they do to make their lives easier? Customer feedback is oxygen for good ideas." ~ Sean Johnson, Digital Intent
10. Listen to Those on the Front Lines
"A great way to encourage innovation from employees is simply to ask them about and value their views and opinions. Some topics I include in my company's weekly progress meetings are competitors who might have beat us for a deal and why, as well as what was effective and what else could help streamline our process. There's nothing better than consulting with those on the front lines of your business." ~ Jared Ross Weitz, United Capital Source Inc.
11. Give Your Team Visibility Into the Bigger Picture
"Give your team the chance to see the big picture. As a leader, it's your job to inspire your employees to stand out by maintaining transparency and open communication. The innovators and creative thinkers in your company want to know that their work is having a material impact. Giving them that visibility allows them to understand how they can continue to effect change." ~ Roger Lee, Human Interest 401(k)
---
---
12. Give Them Time to Work on Side Projects
"Every Friday afternoon, everyone in the company is free to work on any side projects that they would like, whether it relates to our business or not. The idea is to enable creative thinking in all different areas, so that everyone can continue to flex those creativity muscles." ~ James Simpson, GoldFire Studios
---
---
13. Acknowledge All Ideas in a Positive Way, Even If You Disagree
"You should always reward people for their ideas and input, even if you don't agree with them. Never shoot down somebody's idea in a negative way, always be appreciative of their suggestion and respectfully disagree if you have to. When somebody does share a good idea, make sure the rest of the team knows it. This will motivate the person who provided the idea and inspire others to share theirs." ~ Andy Karuza, FenSens
14. Ask for Anonymous Feedback
"For a while, I had a "suggestion box" shared document file where anyone could anonymously submit ideas for our company, regardless of their seniority or position. It's such a simple idea, but our company has come up with some very successful strategies this way. Removing the fear of looking like a fool or speaking outside of one's rank has fostered some very creative and effective ideas for us." ~ Bryce Welker, Crush The PM Exam
---
---
Photo via ShutterstockComment ▼
---