VIALEW organized Startup Competition "Innovation with Sustainable Development Goals"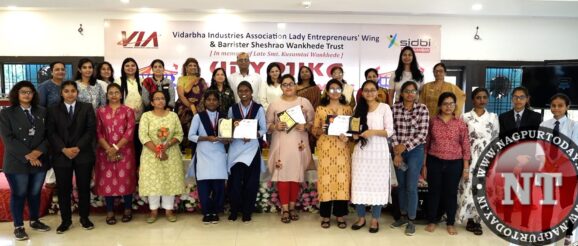 Vidarbha Industries Association Lady Entrepreneurs' Wing (VIA LEW) organized the Startup Competition "Innovation with Sustainable Development Goals" at "Udyojika Swavalamban Mela" An All Eves Exhibition on 3rd Oct 2023 at Kusumtai Wankhede Hall, Nagpur.
The purpose of conducting such a startup competition by inviting startups from all walks of life and encouraging them to participate, providing a platform to show their talents and involve themselves into some economic activities through new ventures.
Eminent Judges were CA Poonam Khandelwal, Managing Partner at Venture Catalysts, Dr Leena Buddhe, Founder & Director of Centre for Sustainable Development, Nagpur and Dr Prashant Agrawal, Director of Ira Agrotech judged the participants on the basis of criteria set for them viz. be innovative in nature providing value-added solutions, be sustainability-driven as well as adopting new methods, processes, governance models, social impact initiatives, and technologies.
The judges were highly impressed, praised the unique products designed by young brilliant participants like energy storage device, sustainable healthcare product, Good Health and wellness, Upcycled handbags, environmentally sustainable product development machine, mental sustainable product development machine, garden & agricultural product, garments as well as services like plumbing, marketing & advertising, etc.
Judges also shared their views and said judging all these prospective ideas wasn't an easy task, all the participants had so much potential and we can all see a very bright future for each and every one.
The competition got tremendous response from the management girl students, aspiring women entrepreneurs and Udyojika stallholders.
Eminent judges given trophies and certificates to winners :
First Prize won by Sakshi Doye (Vermi Compost) from Shri Binzani City College
Second Prize won by Satnam Mattu (Giddy Toys)
Third Prize won by Khushi Wankhade (portable urine analyser) from Shri Ramdeobaba College of Engineering and Management
Special consultation prize given to Mrunali Jagdish Mhaskey (Rhizo Bead)
Earlier, Rashmi Kulkarni, Chairperson – VIALEW welcomed Dr Prashant Agrawal with a floral bouquet. In her welcome address said she was overwhelmed to see the participation of young enthusiastic students, who come forward and presented their unique business ideas.
Yogita Deshmukh, Secretary – LEW welcomed CA Poonam Khandelwal and proposed a formal vote of thanks and Dr Anita Rao, Jt Secretary – VIA welcomed Dr Leena Buddhe with floral bouquets.
Project Directors Amandeep Kaur and Tejal Rakshamwar jointly conducted the programs and also introduced the Judges.
Prominently present were Sarita Pawar, Chitra Parate, Anjali Gupta, Dr Anita Rao, Shikha Khare, Manisha Bawankar and Indu Kshirsagar.
The post VIALEW organized Startup Competition "Innovation with Sustainable Development Goals" appeared first on Nagpur Today : Nagpur News.