VIEWPOINT: Stronger patent protections boost innovation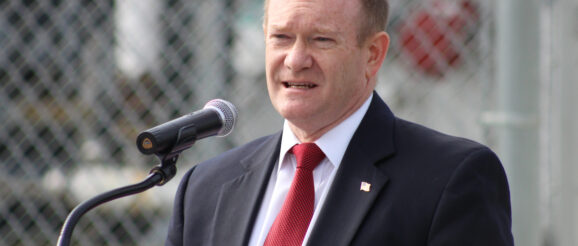 America's patent system used to be the gold standard for the world. It incentivized innovators – in Delaware and across our country – to take risks that delivered new inventions that propelled our economy and improved people's lives. Sadly, our patent system has been weakened significantly, gradually becoming less reliable and effective, and our innovators no longer have confidence their ideas will actually be protected.
Don't just take my word for it: The U.S. Chamber of Commerce has repeatedly pointed to the uncertainty and unpredictability that have caused the U.S. patent system to slip from first in the world. Too often, these failures have come about due to self-inflicted wounds – policies that have not worked as Congress intended. While that's humbling to admit, it's also good news: it means we have the opportunity to reform our system to restore our global competitive edge.
Few of those wounds to our patent system are bigger than the current state of the Patent Trial and Appeal Board (PTAB), an administrative body of the U.S. Patent and Trademark Office (USPTO) designed to fast-track decision-making on patent validity. Created over a decade ago as an alternative to drawn-out federal court litigation, the PTAB was intended to be a quicker, less-expensive alternative to the court system.
In reality, the PTAB has become a tool to wear down patent holders through serial challenges to their patents. It's bad enough that these challenges waste innovators' time and money after they have already gone through the extensive process to obtain a patent, but many of those challenges are sustained, stripping patent holders of their rights. According to a USPTO study of the impact of PTAB trials, more than 80% of challenged patents ultimately had at least one claim invalidated. This is not surprising – parties can work together to file multiple challenges, one after another, and only need to be successful once; patent holders must win a clean sweep every single time. Moreover, in most cases, the PTAB proceedings actually duplicate efforts in federal court rather than streamlining challenges into a single forum.
That's why, alongside Senate colleagues Thom Tillis (R-N.C.), Dick Durbin (D-Ill.), and Mazie Hirono (D-Hawaii), I introduced the bipartisan Promoting and Respecting Economically Vital American Innovation Leadership (PREVAIL) Act. This bill will reform the PTAB so that patent holders can get back to what really matters – innovation – rather than beating back constant challenges to their protected discoveries.
It does so by making a few common sense changes.
First, PTAB challengers would need a dog in the fight to challenge a patent. Currently, anyone can challenge a patent in the PTAB, whether they're facing a lawsuit or not. Some companies challenge patents – especially those held by innovators with limited resources – hoping to invalidate the patents and use the technology for their own benefit. Other companies are formed solely to challenge patents, and since they don't produce anything, they can't ever be accused of patent infringement; neither can they invalidate a patent in district court – but they can file with the PTAB. The PREVAIL Act would require would-be challengers to have been sued for patent infringement, or at least threatened with a lawsuit, before filing with the PTAB. 
The bill would also limit the number of challenges against the same patent – stopping endless cycles of attempted invalidations – by requiring challengers to include all of their arguments in one petition so that they can't file repeatedly and sap the will of our innovators.
The PREVAIL Act would also harmonize PTAB and federal district court standards. Currently, differences in how the two systems adjudicate disputes mean that patent challenges in the PTAB and those in district court can have inconsistent results. The PREVAIL Act would ensure that PTAB judges have to follow the same "clear and convincing" evidence guideline as the courts.
If the PREVAIL Act becomes law, challengers also couldn't hedge their bets – as they do now – and pursue challenges in multiple forums, such as both the PTAB and the courts. They would have to choose one or the other, so that they can't go on the offensive on multiple fronts.
Lastly, the PREVAIL Act would increase transparency by prohibiting the USPTO director from interfering in PTAB panel decisions, require the director to issue a separate written opinion when rehearing decisions, and establish a code of conduct for PTAB judges.
On Wednesday, I chaired a Senate Judiciary Subcommittee on Intellectual Property, where I shared my concerns about the PTAB with USPTO Director Kathi Vidal. While I appreciate the USPTO's recent efforts to address inefficiencies and protect under-resourced inventors, Congress also needs to act. The PREVAIL Act reforms, packaged together, would transform the PTAB into the faster, cheaper alternative that Congress meant it to be and solve some of our biggest challenges around patents and IP protection.
America's innovators are critical to our national security, health, and economic vibrancy. Let's make sure those people who do the hard work of discovery spend their time in the lab and the field, not in hearing rooms.
Chris Coons (D) serves as U.S. Senator from Delaware.
Get the free DBT email newsletter  
Follow the people, companies and issues that matter most to business in Delaware.