Viscom Honoured Twice at EM Innovation Awards Ceremony in China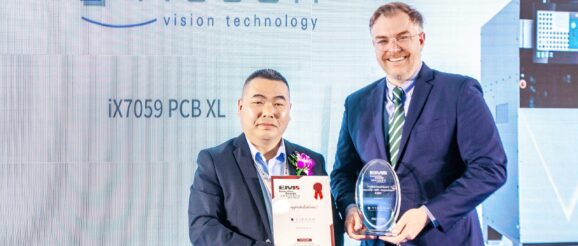 The trade fair productronica China 2023 successfully took place from April 13 to 15 at the Shanghai New International Expo Center (SNIEC) and Viscom took home two EM Innovation Awards.
The inline X-ray system iX7059 PCB Inspection XL was recognized for its outstanding CT-based 3D technology and handling options. Among its features are a fast generation of tomographic images and full in-line inspection of printed circuit boards up to 1600 mm in length and 15 kg in weight. Especially the developers of the machine at the headquarters of Viscom AG in Germany can be very pleased about this EM Innovation Award in the category of "X-ray Inspection". EM is an industry-renowned magazine and news portal in Asia. The award-winning products were independently evaluated by leading industry experts.
Viscom has also won an EM Innovation Award in the category "Best Supplier of the Year", chosen by EM readers. The two awards were received by Mert Samer who heads Viscom's operations in China as Executive Director and General Manager. "To be awarded the best supplier by the industry's leading experts and customers means a lot to us. The whole team in China is relentlessly striving to provide the best service possible to our customers and I am very happy to see these efforts acknowledged. China is and will continue to play a focal role in the company's further expansion," stated Mert Samer. The official ceremony was held on April 14, 2023, at the SNIEC.
The EM Innovation Awards were established in 2006 and are based on very strict criteria like innovation, cost efficiency, and quality improvement. Suppliers who have made outstanding contributions to advancing growth and innovation in electronics manufacturing are recognized in different categories. Viscom's successful iX7059 series was launched to cover a wide range of quality requirements in electronics manufacturing. This also includes products from areas such as electromobility and renewable energies. The 3D AXI system family has already won a VA Prime Award 2022 in Asia.
Hu Jijie, Secretary General of the SMT/MPT Committee of Shanghai Electronics Society, presents the EM Innovation Award in the category of "X-ray Inspection" to Mert Samer from Viscom for the 3D AXI system iX7059 PCB Inspection XL
The post Viscom Honoured Twice at EM Innovation Awards Ceremony in China appeared first on What's New in Electronics.