Vista's XO focuses on choice, innovation, service, community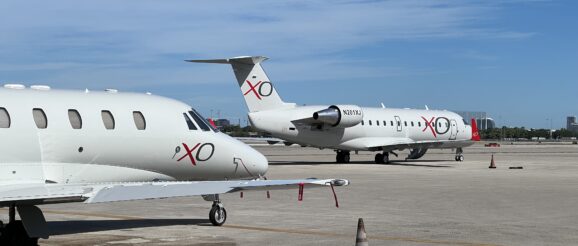 According to a press release, private jet charter broker XO is focusing its efforts on four pillars.
The unit of Vista Global sells dynamic pricing jet card memberships.
It uses the company's fleet of over 360 private jets as part of over 2,400 safety-vetted aircraft, including those sourced through third-party operators.
While the company announced four pillars that will guide it forward this morning, a key point is its instant booking technology.
It offers instant confirmed pricing and saves users an average of 72 hours per booking.
That's the time it usually takes between requesting quotes or other brokers who provide estimated pricing and then have to provide hard quotes later.
XO is also a leader in jet-sharing and by-the-seat private jet flights.
You can also book full aircraft on-demand charter without membership.
"XO has assembled a team and developed an approach deeply committed to transforming private aviation and air mobility. XO is not merely adapting to the future of private aviation; it's shaping it. With a relentless focus on the needs of its discerning clientele, XO has evolved into the ultimate destination for those who want to fly private, at the best value, anytime and anywhere, instantly," says XO Chief Marketing Officer Lynn Fischer.
The company's four pillars are choice, innovation, service, and community.
The group (including VistaJet) has flown clients to 187 countries and 1,900 airports. Its member Fleet and third-party operators offer clients a wide choice from program aircraft to specific aircraft types and configurations.
All operators in the XO network are held to a rigorous recurring safety audit, according to XO.
Through the integration of augmented intelligence, XO delivers "unprecedented efficiency, convenience, and customization to the private aviation sector."
The result is time savings via its instant booking pricing for domestic flights.
XO says despite its technology focus, "Its boutique-style service is made possible through its team of dedicated Aviation Advisors and Client Service individuals who are available to clients, day and night, ensuring a level of personalization that goes beyond the ordinary."
Over the past year, Vista has increased its support teams by 40%.
Controllable on-time departures are at 95.5% this year, it says.
XO provider sees itself as more than just a private jet flight provider.
According to this morning's morning's announcement, "The XO community is a dynamic and diverse group — from artists to entrepreneurs to philanthropists — all individuals who share a common love for exceptional private travel experiences. Inclusive of both experienced private flyers and newcomers to private aviation, our community comes together in a mutual pursuit of excellence, celebrating the unique and extraordinary in all of us. With every flight, XO connects visionaries, shaping tomorrow's future, to help them make an impact in the world."