Vuosaari Heat Pump: Architectural Innovation for Sustainable Energy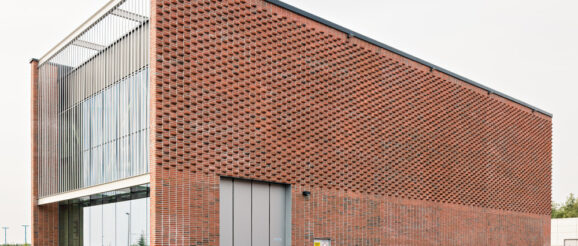 Click to view slideshow.
Project Data
Name: Vuosaari Heat Pump Building
Location: Helsinki, Finland
Client: Helen Ltd
Architects/designers: Uros Kostic, architect, Virkkunen & Co Architects Ltd
Nina Rusanen, architect SAFA, partner, Virkkunen & Co Architects Ltd
Project Manager: Paula Skog, Sami Sihvo, Helen Ltd
Engineers: Heikki Möttönen, M.Sc.(Techn.), Insinööritoimisto Heikki Möttönen Ltd
Project completion date: 2021
Photographer: Tuomas Kivinen
In a significant stride towards achieving carbon-neutral energy production by 2030, Virkkunen & Co Architects Ltd has unveiled the awe-inspiring Vuosaari Heat Pump Building in Helsinki, Finland. This revolutionary project, in collaboration with electricity, heating, and cooling company Helen Ltd, is poised to transform the energy landscape with its innovative design and sustainable approach.
A Fusion of Innovation and Functionality
Nestled within the heart of Helsinki, the Vuosaari Heat Pump Building stands as a testament to architectural ingenuity. Designed to seamlessly integrate into its industrial surroundings, the building features a minimalistic yet impactful design that harmoniously coexists with the existing landscape.
The building's primary purpose is to harness excess process heat from an adjacent power plant and seawater heat from the nearby Baltic Sea. This heat is ingeniously converted into district heat, which can then be distributed to customers, marking a pivotal step towards carbon neutrality.
Design Concept: Where Form Meets Function
The architectural prowess of the Vuosaari Heat Pump Building is magnificently embodied in its design concept. The building's exterior showcases a simple yet striking box-like structure that pays homage to the industrial roots of the site. This aesthetic choice ensures that the building blends effortlessly with its environment, creating a sense of unity within the industrial landscape.
A two-story layout accommodates the building's functions, with the ground floor housing essential equipment rooms and control facilities. On the second floor, a machine room resides, offering a space for crucial operations. The use of prefabricated concrete parts for the building's frame and envelope not only streamlines construction but also contributes to its aesthetic appeal with exposed concrete surfaces.
A Symphony of Materials and Facades
The Vuosaari Heat Pump Building's facades are a visual masterpiece that encapsulates the architectural narrative. The longitudinal facades, facing both the adjacent parking lot and the Vuosaari B power plant, are adorned with mottled red brick. These bricks form a stacked bond pattern, creating a dynamic interplay of color and texture while paying homage to the site's heritage.
The building's east facade, a double-skin structure, combines a glass curtain wall with a screen of slender white-painted steel tubes. This design choice serves a dual purpose: providing a shield against excess heat and glare from the sun while offering glimpses of the building's internal processes to passersby.
On the west facade, a similar double-skin structure is achieved with a suspended steel stair flanked by an outer screen of metal rods and an inner layer of in-situ concrete. This arrangement bridges materials and finishes across all sides of the building, creating a visually captivating facade that communicates the essence of the interior spaces.
Recognition and Beyond
The architectural brilliance of the Vuosaari Heat Pump Building has earned it the esteemed Architecture MasterPrize in 2022. This recognition underscores the seamless integration of the building into its industrial surroundings, its commitment to sustainable energy solutions, and its meticulous blend of materials and finishes.
A Glimpse into the Visionaries Behind the Design
The visionary architects behind this extraordinary creation are Uros Kostic and Nina Rusanen from Virkkunen & Co Architects Ltd. Their collaborative effort, driven by a passion for sustainable design and innovative solutions, has culminated in a building that not only addresses pressing energy challenges but also elevates the quality of its industrial setting.
Conclusion
The Vuosaari Heat Pump Building stands as an embodiment of architectural excellence, sustainability, and innovation. Its integration of functionality and aesthetics, its meticulous attention to materials, and its harmonious coexistence with its surroundings set it apart as a beacon of progress in the journey towards a carbon-neutral future. This architectural marvel is a testament to the power of design in shaping a more sustainable world.
The post Vuosaari Heat Pump: Architectural Innovation for Sustainable Energy first appeared on Architecture List.