Wagonga Inlet's Living Shoreline project wins award for innovation | Bay Post-Moruya Examiner | Batemans Bay, NSW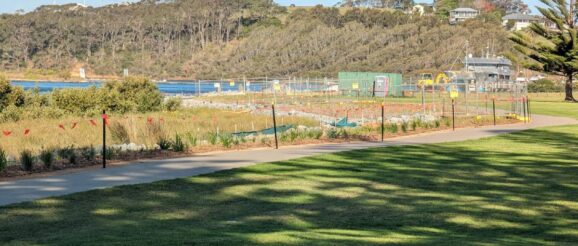 The project involved removing 400 metres of failing seawall and replacing it with a living shoreline that has a small rock toe and saltmarsh plants.
Heidi Thomson, Eurobodalla Shire Council's natural resource and sustainability coordinator, said the project will provide 3000 square metres of additional saltmarsh and terrestrial habitat for native shorebirds and fish, water quality improvements and climate change resilience.
The radical departure from controlling coastal erosion with traditional rock walls won an award for innovation at the Joint Coast to Coast and NSW Coastal Conference on November 2.
The project includes an intertidal reef covered in millions of Sydney rock oysters that naturally recruited in one season plus NSW's first subtidal reef of its kind that has been seeded with the endangered angasi native oyster.
The Nature Conservancy's South East Oceans coordinator, Kirk Dahle, said while NSW still has individual native flat oysters in estuaries "the living reefs they form, to the best of our knowledge, have been completely lost.
"The oyster reefs are fun to work on but combining them with the living shoreline and restoration of saltmarsh is a perfect complementation of habitat types to assault coastal erosion with a nature-based solution."
Mr Dahle said the oyster reefs help ameliorate the wave energy while the saltmarsh holds the bank and stabilises it with its roots like the root of a tree on a river bank.
The subtidal reefs are home to around 15 species of fish, similar to established reefs elsewhere and Sargassum seaweed is growing, another sign that things are on the right track and starting to establish.
"Saltmarsh and mangroves remove and store carbon four times faster than tropical rainforest," Mr Caffery said.