Walmart Steps Up Environmental Commitment With Latest Private-Brand Innovation | Progressive Grocer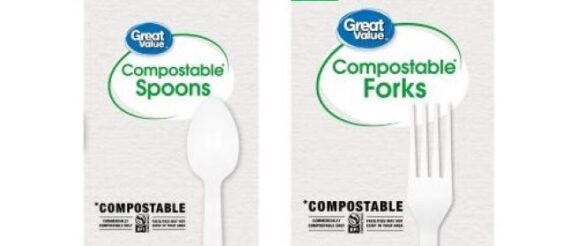 Walmart is stepping up its environmental sustainability with the introduction of Great Value commercially compostable cutlery, offering an affordable alternative to single-use plastics. The new cutlery is made in the United States, and the assortment can be found in 1,400 Walmart stores nationwide and online, offering 24- and 48-count packs of 100% commercially compostable forks, knives, spoons and assorted cutlery.
The cutlery, which is made from commercially compostable raw materials, is highly durable and costs only $1.48 for a 24-count pack and $2.96 for a 48-count pack.
[Read more: "Starbucks Readies More Reusable Cup Options"]
"As we continue to embed regeneration across our enterprise, our Great Value Compostable Cutlery is a clear alternative to single-use plastics," said Jennifer R. Jackson, SVP of merchandising, household essentials at Walmart. "There's a perception that more sustainable options cost significantly more, which presents a barrier for customers looking to save money on choices that are good for them, as well as the environment. With Great Value Compostable Cutlery, we now offer a more sustainable alternative at our Every Day Low Prices."
According to Walmart's Scott Morris, SVP of food and consumables, private brand manufacturing, Great Value Compostable Cutlery is certified by BPI, the leading authority on compostable products and packaging in North America and is commercially compostable through industrial composting facilities. The product will be manufactured by beyondGreen, a company that was discovered at Walmart's 2022 Open Call.
"Furthermore, through Walmart's $350 billion investment in strengthening U.S. manufacturing, we are proud to work with beyondGREEN, a certified minority-owned U.S.-based business," Morris explained. "BeyondGREEN will produce our Great Value Compostable Cutlery right here in the United States." 
Walmart has been on a roll with making environmentally friendly moves. In July, the retailer and manufacturing company Rubi Labs embarked on pilot projects designed to explore the integration of innovative carbon capture technology that could ultimately lead to affordable apparel and other products made from carbon emissions. The output of those projects will be used to create a prototype apparel collection using Rubi's fabric made from carbon emissions.
Walmart has worked with suppliers, NGOs and climate action leaders to spark positive change across global value chains since 2005. In its own operations, the company has set a goal to be powered 50% by renewable energy by 2025 and 100% by 2035. More than 5,200 suppliers globally are participants in Walmart's Project Gigaton, and as of 2022, suppliers have reported reducing or avoiding more than 750 million metric tons of carbon emissions collectively since 2017.
Bentonville, Ark.-based Walmart operates more than 10,500 stores and numerous e-commerce websites in 20 countries. Walmart U.S. is No. 1 on Progressive Grocer's 2023 list of the top food and consumables retailers in North America. PG also named it one of its Retailers of the Century.