Watch: Mill+ and Mercedes-Benz Showcase Innovation for Opening of Worlds 2023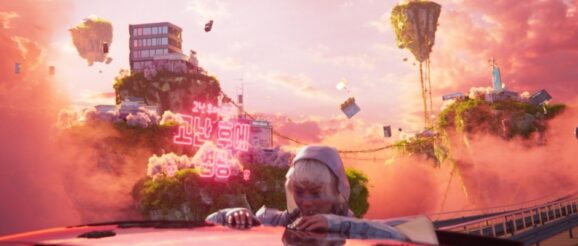 Mill+ recently provided its own brand of innovation to the ultimate innovator in design and state-of-the-art vehicles, Mercedes-Benz. In collaboration with the automaker and Riot Games, the creative studio showcased its ground-breaking cinematic design in "League of Legends: A Triumphant Fusion of the Automotive, Esports, and Cinematic Spheres" for the Opening of Worlds 2023, presenting the brand to both e-sport and game enthusiast audiences.
Set in a futuristic Seoul, built in CG, viewers follow a young heroine navigating her thrilling journey to the Gocheok Sky Dome. Helmed by Mill+ director Tim Fox, the full CG spot seamlessly integrates the allure of the Mercedes-Benz EQS SUV with the vivid, fantastical world and characters of League of Legends.
"In my debut as a Mill+ director, I was fortunate to secure a dream collaboration between Mercedes Benz and Riot Games for the World's '23 opener in Seoul," shared Fox. "The assignment was clear: design an awe-inspiring scavenger hunt/race set in a futuristic Seoul, spotlighting a young heroine traversing between two dimensions (red and blue) with the new EQS SUV serving as the gateway. And yes, integrate some familiar faces from the League of Legends, all while achieving hyper-realistic visuals."
Setting the bar high for a "dynamic, high-octane narrative," the team used live-action references to capture authentic camera movements.
"I deeply value environments; thus, we conducted thorough on-site research in Seoul to ensure every detail, from lamppost stickers to window curtains, resonated authenticity," explained Fox. "Our protagonist's design was established early on, with minimal changes from my initial concept. Perfecting her expressive cues was challenging, leading to refining her smile nearly 30 times."
"The entire endeavor was surreal," he continued. "While I immensely enjoyed every phase, it's pivotal to acknowledge the brilliant team behind this creation, whom I'm both humbled and honored to have directed."
Fox attributes much of the project's success to the Mill+ team, spanning two continents with creative director Anthony Bloor and 2D lead Declan Andrews heading up the work in the London Studio and associate producer Aisswarya J and production coordinator Saranya Reddy in Bangalore.
Speaking to the creation of the futuristic Seoul, the backdrop for the trophy hunter's explorations, with its multiple complex environments, Andrews noted, "…our challenge was to build a world that felt incredibly detailed and lived in whilst our heroine and artists sprinted towards a 3-month deadline."
He also describes the team's challenge, meeting the energy and pace that Fox set out to portray, adding, "…the 3D cameras were based on a real-world reference shoot running and jumping around the streets near our London office. With these camera angles established, the real work began. Maya and Houdini were used to populate the world with 'how would this look if we shot it for real' always kept in mind.'"
"Lighting and comp worked together closely to art direct each shot and make sure they felt focused (a challenge when some shots are 15 frames!)," continued Andrews. "Hundreds of easter eggs were added for the sharp-eyed, and additional subtle elements such as real-world filmed lens flares and even a miniature rainbow were the cherry on top to build a believable vibrant city."
"This comprehensive project with the Mill team spanned from pitching to delivery—embracing every step of the creative journey," said Fox, concluding, "Endless gratitude to the trust and support from the team at Antoni Garage, GmbH & Co. KG. Their belief in our vision was invaluable."
As the auto industry continually evolves, embracing the digital age and resonating with the tech-savvy generation becomes imperative. By partnering with gaming giants and entrusting the narrative to cinematic experts like Mill+, Mercedes-Benz cements its place as an industry innovator and a brand that resonates across diverse demographics.
Check out "Mercedes X Riot Games LoL Opener:"
Source: Mill+
Debbie Diamond Sarto is news editor at Animation World Network.