WeWork Makes Its Pitch As An Innovation Enabler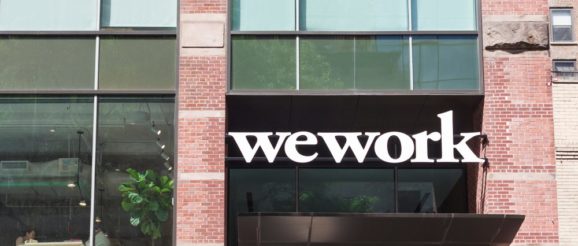 The innovation economy requires more than caffeine and collaboration for fuel. A common workspace is fine, but so is mentorship and even splashy awards shows with monetary prizes. That's the path chosen by WeWork.
The space-sharing company, already famous and well-funded for the value it offers to modern, technologically proficient and often geographically separated workforces, keeps making inroads in payments and commerce — in fact, it is getting into software via the just announced acquisition of Teem, which sells office management technology.
WeWork also wants to make a bigger name for itself as an enabler of innovation. Already, it has helped score some significant successes.
Dating App
One of those is a company called Coffee Meets Bagel, a firm whose "highly curated" dating app is designed to appeal to women seeking relationship-minded partners, and who often are outnumbered by men on similar dating sites.
Viewers of the entrepreneurial TV series Shark Tank might be familiar with the company. Its founders, three sisters from San Francisco, turned down Mark Cuban's $30 million offer to buy the startup in 2015. The company has reportedly raised $23.4 million since then, employs more than 30 workers and continues to expand internationally.
Coffee Meets Bagel is listed as one of the alumni members of WeWork Labs, which "provides the community, education, connections and mentorship to help anyone take the startup path and grow with us," WeWork said. "We partner with local incubators and accelerators to provide holistic, long-term support for startups."
Innovation Program
WeWork Labs members receive their own pricing for work space — the monthly rate per person per month for space in the tech-heavy Dumbo Heights section of Brooklyn was going for $450 as of Sept. 12 — along with mentorship, pitch nights, investor introductions, workshops and other features. The company does not require that WeWork Labs participants give up any equity in their firms to the space-sharing provider.
Coffee Meets Bagel has recently set up operations in Seattle — its first office outside San Francisco — and used WeWork space for that. "The office grew organically out of the startup's decision to hire new employees based on talent, not location," GeekWire wrote in a report.
"The company has hired individual employees in cities scattered across the U.S., but in Seattle, it attracted three new hires fairly quickly," the report said. The startup put its new Seattle employees "in the Westlake WeWork in Seattle for the time being," with a "full office [possible] in the coming years."
Innovator Awards
Awards also play a role in WeWork's desire to play a larger role in the innovation economy — just as they do for other companies involved in payments and commerce. WeWork operates the Creator Awards, a series of regional competitions rewarding innovators that is open to entrants whether they use WeWork or not.
Earlier this year, during the Creator Awards Global Finals in New York — an event that included a musical performance from Macklemore — Global Vision 2020, a nonprofit that distributes corrective glasses to the needy, won the $1 million grand prize.
According to an account of the event, WeWork "awarded over $4 million to eight promising startups and nonprofits at the inaugural event, where winners of preliminary regional competitions pitched their big ideas to judges for a shot" at that grand prize. "The global competition is part of WeWork's effort to promote promising startups, while also positioning the company's brand as not only an office space firm, but one that fosters innovative ideas and entrepreneurs."
Investors still are not certain if WeWork is an office or real-estate firm, or a tech company. Maybe it's a hybrid, or maybe it will end up as something else. But there is no doubt that the company wants a piece of the innovation economy.
Share
Print
Email