Why gambling on innovation is worth the risk in national motorsport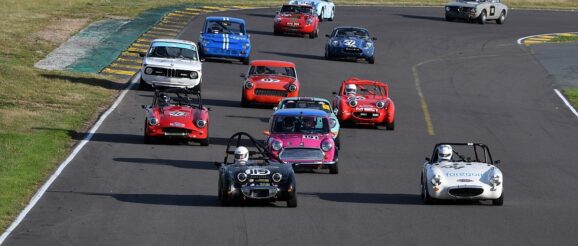 For a sport that takes place at a frenetic pace, the speed of change in motorsport can be remarkably slow at times. Traditions are well established and are often religiously stuck to with very few daring to break the mould. Yet trying something new is important to keep offering fresh ideas for competitors – although such innovation can be tricky at a time of financial uncertainty, like at present, when many are battening down the hatches and keeping things simple.
One organiser that has not been afraid to innovate over recent years has been the Classic Sports Car Club. Rather than simply sticking to the most popular circuits, it recognises the importance of spreading the joy and includes a wide variety of venues on its calendars. And another example of it going against the grain is with its 24-hour event at Anglesey earlier this month. Very few UK club organisers tackle such an undertaking and the CSCC opted to mix things up by not just running a conventional continuous twice-round-the-clock enduro for the same teams, but instead have a sequence of shorter races one after the other over a 24-hour period, a format that is already used at existing events further afield such as the Le Mans and Daytona Classics.
Particularly when it comes to historic cars, such an approach brings clear merits. It means less wear and tear on the ageing machinery and is also less demanding on amateur drivers who may not always be best-placed to cope with the physical challenge of a 24-hour contest. So far, so good. But, sadly, the CSCC's 24-hour event over the first weekend of July was not exactly overwhelmed with entries.
While the combined Tin Tops and Turbo Tin Tops grid and the Swinging Sixties Group 1 field were strong, in the high 20s for their races – each set having four 40-minute contests plus a half-hour night familiarisation session over the 24 hours – the same could not be said for all of the others. Take the combined Magnificent Sevens, Open Series, New Millennium and Slicks Series grouping that attracted just 10 crews despite comprising four of the CSCC's regular categories. Therefore, there were fewer than 100 starters when adding all of the Welsh entries together – disappointing considering the effort and money that went into creating the event, including its livestreaming.
There are plenty of legitimate reasons for that relatively low turnout. Despite its picturesque setting, Anglesey is not exactly on the doorstep of many club racers and some will have been reluctant to make the trek – although it is one of the tiny number of UK venues that permits 24-hour racing. Plus, although the CSCC had worked to keep entry fees excellent value, the fact the meeting essentially encompassed almost four regular club events would mean more consumable costs for the drivers – fuel, tyres and the like. And then the Super Touring Power event at Brands Hatch, which featured an array of tin-top categories for cars also eligible for the CSCC divisions, was also held on the same weekend and caused a calendar clash for some.
Some of the grid numbers dwindled while others thrived at Anglesey
Photo by: Steve Jones
However, there were plenty of positives to emerge from the event. "It left us feeling really mixed," says CSCC director David Smitheram, who is keen to express his gratitude to the Anglesey circuit staff who made it all happen. "It was something different – some people have done 24-hour races before but not like that. Everybody who attended has been glowing and buzzing about it and that includes the officials and marshals. We've had more emails of thanks and 'hope you do it again' than from any meeting we've run in recent years. But the numbers didn't stack up."
Given the positive comments from those who actually took part, Smitheram says it is possible the 24-hour race could return. Yet, without greater interest, it could not realistically become an annual fixture of the CSCC schedule. Ironically, the club's next event at Donington Park – the scene of some extraordinarily large CSCC fields in recent years – is looking much stronger, with two grids already into reserves with three weeks to go.
And the Anglesey experience has certainly not dissuaded the CSCC from innovating. After all, it was just a few months ago that Autosport was applauding its decision to break with tradition and run its season-opening fixture at Silverstone in February (Autosport, 2 March). That single-day event attracted almost 170 cars, a very impressive achievement considering many simply would not have been ready for such an early start, and even the weather stayed fine to help make it a success.
"Silverstone at the beginning of the year paid off, Anglesey didn't work," summarises Smitheram of the club's ground-breaking events.
It is certainly important to bear in mind that there is no guarantee such gambles will be rewarded – but that should not put off organisers from trying. Whether it is visiting an unusual venue, launching a radical new series or experimenting with event formats, unless it is attempted – with careful planning and assessment beforehand – no one truly knows what the outcome will be. After all, with no innovation, the sport would never move forward and evolve.
The CSCC's experiments at Silverstone and Anglesey show new ideas and formats should be encouraged in the future
Photo by: Steve Jones