Windover Construction Appoints Amr Raafat to Chief Innovation Officer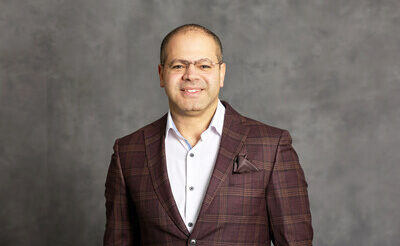 BEVERLY, Mass., May 11, 2023 /PRNewswire/ — Windover Construction, a construction management firm focused on leading through innovation, has promoted Amr Raafat to Chief Innovation Officer (CIO). For over 20 years, Amr has been optimizing cutting-edge technology and providing solutions that are transforming the architectural, engineering, and construction (A/E/C) industry and beyond. His innovative and entrepreneurial drive has propelled the use of technology in construction and positioned Windover as a leader in the industry.
Amr joined Windover in 2017 as Director of Virtual Design and Construction (VDC) and his impact on the firm was immediate. Through Amr's expertise and guidance, the firm now utilizes cutting-edge technology in every phase of a project, providing impactful solutions to its clients and partners. Amr has helped transform the industry by continuously pushing the boundaries of what is possible in construction technology, allowing Windover to plan and build more efficiently, sustainably, and safely.
In 2021, Amr helped launch Innovations for Design, Engineering, and Automation (IDEA) – a platform that optimizes the use of Windover's BIM, digital prefabrication, drones, robotics, AR/VR, and reality capture capabilities to mitigate risk, increase efficiencies, and bring clients' visions to life. Through IDEA, Amr has collaborated with developers, architects, engineers, and partners around the world to provide leading-edge solutions.
Fueled by Amr's vision and leadership, Windover has holistically adopted a culture of innovation. "We recognize that innovation is the implementation of solutions that challenge the status quo, push boundaries, and achieve growth," shares Windover's President and CEO, Stuart Meurer. "We know that it is more than just providing new technology. It is a mindset of how we think."
The work Amr has done at Windover has transformed not only the way the firm builds, but it is also changing the A/E/C industry as a whole. Amr earned global recognition in 2019 as Autodesk's Innovator of the Year for his advancement of the industry through novel integration of applications to provide impactful solutions. That same year, Windover received the Autodesk AEC Excellence award for its unprecedented use of technology in conjunction with modular construction on CANVAS, a 153,000-square-foot mixed-use apartment community in Beverly, MA. Windover would go on to win another AEC Award just a few years later – the first company to receive the award multiple times – and be a finalist for another.
Amr's unique vision has led to partnerships with companies around the world that have produced unprecedented solutions and created real value in the industry. Windover collaborated with Autodesk, New Zealand-based cold-form steel machinery company Howick Ltd, and Canadian software company StrucSoft to develop an adaptive industrial construction technique that fabricates telescopic panels from a digital model. These panels were then installed in the historic renovation of the Cabot Street YMCA in Beverly, MA, where they were adapted to fit the unique dimensions of the space. The project won the "Accelerating Transformation" award from Autodesk for the groundbreaking use of technology.
With Amr's promotion and creation of the CIO role at Windover comes the emphasis and importance of innovation and technology, and the permeation of that mindset throughout the company, its partners, and the industry. "Since Amr joined Windover, we have continued to grow our VDC capabilities, and it has been amazing to see the transformation in how we build and how that has impacted our industry," Meurer said. "This transformational growth has been exciting to watch, and Amr has been an integral part of it and influencing our culture of innovation."
To learn more about Windover, its people, and the projects it builds, visit www.windover.com.
About Windover Construction
Dedicated to the core purpose of building great things with great people, Windover creates state-of-the-art commercial and institutional spaces, urban multi-family communities, and select custom homes. As a 100% employee-owned firm, Windover is differentiated by its people and focused on providing exceptional experiences for clients and all team partners from project inception to completion. Windover is headquartered in Beverly, MA, and works with clients to provide construction management, design-build, project development, and virtual design and construction services. For more information on Windover, visit www.windover.com.
SOURCE Windover Construction Inc