Workplace Environments that Inspire Innovation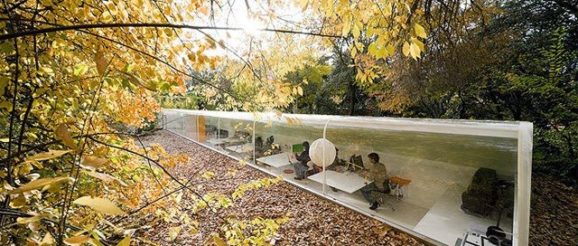 A great deal of thought has been given to office design. Company leaders are constantly trying to create a workplace that improves employee happiness, productivity, and creativity. To add fuel to that fire, in a recent survey of over 2,500 U.S. professionals, "Eighty-two percent of participants said that a workplace must exhibit innovative design in order to truly foster a culture of innovation where they can do their best thinking." In that same survey the three most requested attributes of a workplace hospitable to creativity were natural light, creative imagery, and reconfigurable spaces with varied furniture. In short, your cubicle with standard issue rolling chair isn't going to cut it anymore. So what are some examples of workplaces that are delivering on a great workplace environment?
Selgas Cano's offices in Madrid are a great example of an office that brings in natural light – not only that – but other studies have suggested that views of nature are calming and beneficial. This looks like a great office to go to every day.
Viacom in New York commissioned artist Shantell Martin to paint an intricate and sprawling mural that leads employees from reception to conference room with images and messaging.
When it comes to flexible workspaces – employees feel invited to be mobile in the workplace – work on a bean bag, at a standing desk, on the floor… The Red Bull Office in London has the feel of a lounge more than it does a workplace where the top floor plays open host to reception, a bar, a café, flexible and closed meeting areas and a main boardroom. No assigned seating necessary.
Other important workplace trends that help to make for a better office environment that can attract and inspire top talent include adding aspects that encourage health and movement (standing desks and gyms, but also attractive staircases and moveable walls). Still others want to include creative artifacts or materials (like floors made of tires or meeting rooms that look like hot air balloons). Seeing these things out of context can sometimes spark creativity.
What other things make a workplace environment more creative and engaging for employees?