WOW Skin Science's Manish Chowdhary On Why Founders Need To Constantly Stay On The Innovation Treadmill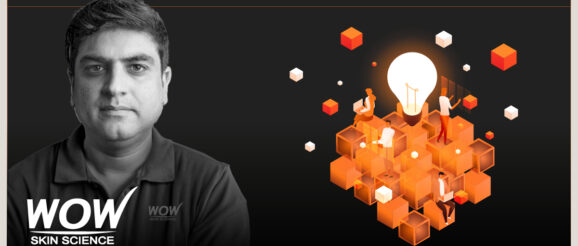 Product-market fit is a dynamic concept that's never set in stone, especially in the world of direct-to-consumer (D2C) brands, said the cofounder of WOW Skin Science, Manish Chowdhary, at the fourth edition of Inc42's D2C Summit.
Speaking with Rajiv Srivatsa, partner, Antler India, during a fireside chat, Chowdhary deliberated upon how WOW began its journey as a dietary supplement brand, but it soon recognised a shift in consumer preferences toward skincare and haircare.
"We recognised that the majority of our customers were gravitating towards skincare and haircare. This realisation prompted us to pivot and innovate. A decade ago, we could never have imagined becoming top sellers in the haircare segment," Chowdhary said.
Founded in 2014 by Manish and Karan Chowdhary, WOW Skin Science boasts a diverse range of products spanning skin, hair, bath and body, wellness, nutrition, and health.
Competing with industry giants like Nykaa, Mamaearth, SUGAR Cosmetics, and mCaffeine, the startup secured $48 Mn in funding from Singapore's GIC in June 2022, bringing its total funding to $125 Mn across multiple rounds.
However, it's worth noting that WOW Skin Science reported a significant increase in its net loss, jumping to INR 135.83 Cr in the financial year 2021-22 (FY22) from INR 8.78 Cr in FY21. This surge in losses outpaced the growth in revenue.
Nevertheless, the total revenue of WOW Skin Science's parent company, Body Cupid Private Limited, skyrocketed by 3.4 times to INR 343.94 Cr in FY22 from INR 99.83 Cr in FY21. Operating revenue also mirrored this growth, reaching INR 340.37 Cr from INR 99.83 Cr in FY21, according to Body Cupid's filings with the Ministry of Corporate Affairs.
Chowdhary emphasised that their commitment to building a digital-first brand was clear from day one. To stand out in a crowded market, they implemented various strategies, including a unique packaging choice. While most products in India are packaged in white, WOW opted for amber and gold packaging to stand out among other products being searched by customers online.
The founders discovered that gold, in particular, held consumers' attention for a few extra seconds, making it a valuable addition to their packaging.
"In our category, there's no shortage of imitators who emerge within six to twelve months. Currently, there are over 5,500 skincare companies, and more brands are realising the untapped potential in this sector. Competitors may try to replicate your success, but you must stay on the constant treadmill of innovation," he added.
Chowdhary also underscored the significance of marketing innovation as both a differentiator and a challenge for D2C brands. Many brands fail in the early stages, but even those that achieve initial success can't rest on their laurels.
"You need to continuously recalibrate. What worked to take you from zero to 10 won't necessarily take you from 10 to 100 or 500. Therefore, you must keep evolving your strategy along the way," he emphasised.
The fireside chat delved further into WOW's strategies for omnichannel and cross-border expansion, their vision for capitalising on future opportunities, and the invaluable lessons learned in the world of skincare.
The post WOW Skin Science's Manish Chowdhary On Why Founders Need To Constantly Stay On The Innovation Treadmill appeared first on Inc42 Media.