Wrapping up the 2018 Innovation Sprint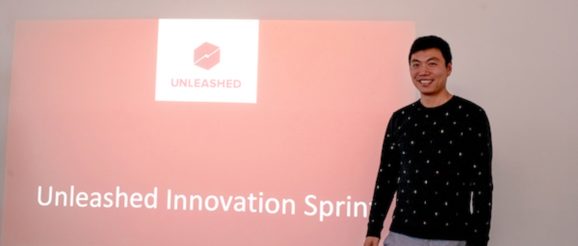 October 19, 2018      3 min read
We've finally wrapped up a two-week Innovation Sprint at Unleashed and are excited to share our outcomes.
Leading up to the sprint, we had 20 viable ideas for teams to bring to life. The main goal was to either deliver a functional prototype or validation and proof of concept for the chosen idea. Read more about how we prepared for this year's sprint.
What have we been up to?
Here's a quick look at two of our projects:
Paperless picklist
Business technology is rapidly evolving, and the latest devices and software are becoming more accessible to a wider range of business, both big and small. Running a paperless business has never been easier. It's no surprise that going paperless is a rising trend among many industries.
With that in mind, one team decided to make the picking process paperless. To achieve this, they have prototyped an Android app to help warehouse users with the picking, packing and dispatching process. By scanning the products before picking, the team hopes that it will not only reduce the number of errors in the warehouse but also make the process more mobile.
Mock up a feature without a single line of code
Working in a fast-paced environment like Unleashed means that our team needs to quickly create a prototype of potential features that meet the needs of our users. However, delivering highly requested features is hindered by time-consuming coding.
After much research, the team used a prototyping software that allows them to mock up a potential feature interface. A crucial aspect of this tool is that it allows the team to collect feedback from various users. If implemented, this tool will allow the team at Unleashed to respond to feedback and efficiently work on fine-tuning the feature before it is released. This reduces the likelihood that we release a feature that doesn't meet our users' requirements.
Innovation Sprint Superstars
Of all the ideas and projects, there were two groups that stood out above the rest.
Best Idea Award: Unleashed Calendar
The Unleashed Dashboard is great for seeing how your business is tracking at a glance – how can we make that better? Thea and Akshara exposed the fact that visibility over sales and purchase orders was limited to the dashboard. They worked on an Unleashed Calendar to help Unleashed users visualise their upcoming sales orders and purchase orders in an easy-to-use calendar. If implemented, this feature will have the benefits of a calendar – it will be able to help Unleashed users to view their upcoming sales and purchases at a glance, schedule their stock order in advance for better planning, and more!
Game Changer Award: PULSE
Anthony, Trisha, and Will worked on improving the way Unleashed handles errors internally. Their proposed solution would be available across all functions in the company and will have all the contextual information our developers need to solve the problem. This solution will allow our team to have a proactive approach instead of reacting to issues, meaning that we can identify and solve problems before our users even notice it!
What's next?
We are really impressed with the fresh new ideas and with the success of this year's Innovation Sprint, we're already planning to have more in the years to come!
Was this content helpful?
Topics: ,