WTA Continues Digital Innovation With New Tennis Channel Rights Deal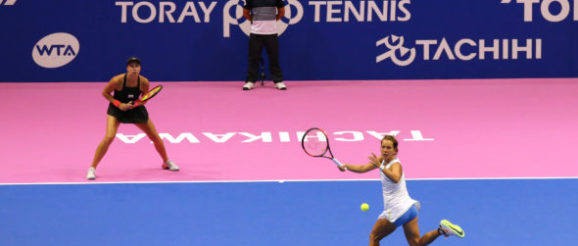 The Tennis Channel will become the digital home of women's tennis in a landmark five-year agreement beginning in January 2019. The sport's principal organizing body, the WTA, is building on prior innovation with its streaming rights that previously included doubles matches on Facebook and a partnership with iQIYI, which is often called the "Netflix of China."
The new agreement will make more than 2,000 matches available per year to the network's linear broadcast and OTT platform, Tennis Channel Plus. Fans can subscribe directly to Tennis Channel Plus for additional matches not shown on traditional TV and watch via mobile devices.The WTA and Tennis Channel will create original series, specials, documentary films, short-form programming, social media series, and daily news content as well. The deal was brokered by the WTA's media-rights partner, DAZN Group (formerly Perform Group).
WTA president Micky Lawler spoke about the need to serve the digital audience while appearing at the Hashtag Sports conference in June.
"For every sports league, this connected fan represents a massive opportunity because every stakeholder now has a voice, every athlete has a voice, and the fan has control over what they want to see, when they want to see it, how they want to see it," Lawler said.
Steve Simon, the WTA's CEO, spoke at the organization's Oct. 2017 season-ending press conference about how the sport had seen not only a growth in its audience but also a trend toward a younger demographic. He reported that the group's non-live production arm, WTA Networks, produced 220 million video views in its first year.
At that event, Lawler added that the first 40 doubles matches streamed on Facebook in a brief 2017 trial period drew audiences of between 700,000 to 860,000 viewers, with 41 percent of the audience under the age of 34. The Sports Business Journal reported the average age of linear TV viewers had also declined significantly, from 56 to 52.
"The other great thing about the doubles Facebook streaming is that these matches are not commentated by professionals," Lawler said last October. "So they are viewer-generated commentary. So people leave emojis, they leave likes . . . If you want to talk about real fan engagement, wow, we are getting some success there. So that is fantastic."
Lawler also said at Hashtag how important and impressive the new digital players, like Amazon and Facebook, have been in the sports rights marketplace. She added that her expectation is that "they're going to be networks at the table" just like the traditional players, and that the user-generated content iQIYI has hosted has also performed well.
"What the social platforms have done is they've created a little bit more competition, obviously, against some of the traditional broadcasters," Perform Group's SVP of business development, Laura Louisy, said at Hashtag Sports, before later adding: "We're trying to identify what companies we want to come in for those rights and then trying to create a way for them to dip their toe. So how can you carve up what you have to create the [right] package?"
Outside the U.S., beIN Sport remains the primary rights holder of WTA matches, and the Qatari network will collaborate with the Tennis Channel on cross-promotion as part of the new agreement.
"The women's game is the biggest differentiator between tennis and every other sport, and one of the most powerful elements in helping grow mass viewership online," Tennis Channel president Ken Solomon said in a statement. "As we continue to aggressively grow our closely integrated television and streaming subscriber bases—along with online, social media and print—we're looking forward to forging new ground with the WTA in creating new, expanded demand and broad, nationwide awareness and excitement for the sport we love and represent."