Young scientist from St Thomas creating waves through innovation Loop Jamaica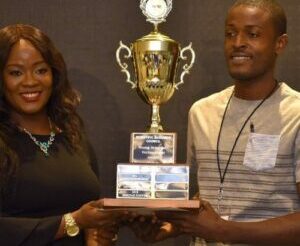 Black Immigrant Daily News
At age 34, University of the West Indies (UWI) Chemistry lecturer, Dr Peter Nelson, is creating waves in the field of science and technology.
His life's work has focused on inventing diagnostic and analytical tools (sensors) from systems and compounds, with applications for both the health and productive sectors.
These earned him the Scientific Research Council's (SRC) 2022 Young Scientist/Technologist of the Year Award.
One of Dr Nelson's ground-breaking sensors detects the presence of lead in water, while the other emits a colour change, based on the level of copper in urine.
"Lead is a neurotoxin; it can damage almost every organ in your body. So if we can detect that in your drinking water, then we can tell you that 'look, maybe you don't want to drink this'," he explained.
The health sector's utilisation of Dr Nelson's innovation can be studied from the perspective of the Flint Water Crisis in the United States, in which at least 12 people died and dozens more sickened, partly due to exposure to dangerous levels of lead in the public water supply.
Additionally, he highlights research articles "which prove, without a doubt, that lead has a deleterious impact on the cognitive development in children, their mathematical abilities, and reading comprehension skills; it also causes them to be very aggressive."
Regarding the copper sensor, Dr Nelson explained that excess amounts of this element in the body could cause Wilson's disease, which results in kidney and/or brain damage, or arthritis.
"So if we could make, let's say for example, a wipe functional – meaning that if your urine gets on it, it can tell you that you have excess copper in the urine [and] you need to talk to your doctor because you have a problem – that would make your wipes even more useful by [offering] continuous monitoring," he reasoned.
This, the young innovator pointed out, "was the second invention", pointing out that "that one is completed, and it works."
Dr Nelson advised that the first invention is about 90 per cent complete, "meaning that it works…we have tested it, but we have not created the device yet; it's just a matter of assembling the device".
A native of the east, Dr Nelson, who was born and raised in St Thomas, told JIS News that he has long had a keen interest in science, dating back to the tender age of three.
He said his mother was influential in fuelling this interest by encouraging him along this path while adding that, as a child, he was fascinated with documentaries on the subject and "figuring stuff out".
Dr Nelson said while attending St Thomas Technical High School, he had "good teachers" who helped to prepare him for his current engagements.
The scientist, who still resides in St Thomas, said he is thrilled and "very humbled" to have copped the SRC national award while pointing out that he remains "motivated" to continue his innovative work.
Ever the busy inventor, Dr Nelson's ideas on the drawing board include sensors for the early detection of diabetes and cervical cancer, as well as a non-invasive sensor to detect prostate cancer.
The SRC Young Scientist/Technologist Award, which was initiated in 1990, recognises young scientists and technologists for excellence in their work and potential contribution to local and global development.
The winner is selected based on originality, creativity, inventiveness, innovativeness, as well as the potential for the social economic value of their work.
They must be able to demonstrate their capability to contribute to Jamaica's development, have evidence of peer-reviewed publications, and be able to deliver an excellent oral presentation.
Executive director of the SRC, Dr Charah Watson, pointed out that, "it is important that we have programmes such as [this] as an encouragement and support to the next generation of changemakers, who [will] lead us into the future and drive economic resilience."
She said Dr Nelson's innovation was described by the panel of judges as the "most advanced towards immediate application and commercialisation", with a "wide potential for impact" and, overall, "a very practical and bankable idea" supported by extensive research.
In addition to the coveted trophy, Dr Nelson received a cash prize and now joins a powerful global network of science and technology influencers.
Previous winners of the Young Scientist/Technologist Award include UWI Mona principal, Professor Dale Webber, and biotechnologist and lecturer, Professor Marcia Roye.
NewsAmericasNow.com