Zesty Paws enters healthy-aging category with new 'breakthrough innovation'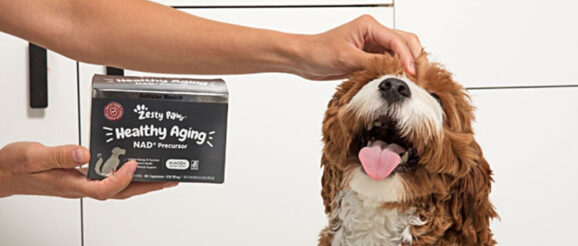 ORLANDO, FLA. — On Oct. 26, Zesty Paws marked its foray into the longevity category of the pet industry with its new Healthy Aging NAD+ Precursor supplement for dogs. To develop the supplement, Zesty Paws partnered with ChromaDex, a global authority on nicotinamide adenine dinucleotide (NAD+) and healthy aging research in humans.
NAD+ is an essential coenzyme that plays an important role in cellular processes, including mitochondrial function, cellular energy production and DNA repair. Nicotinamide Riboside (NR), often called Niagen, is an ingredient that helps support the regeneration of NAD+ levels in humans and animals, which can slow with aging. Zesty Paws' new supplement is formulated with ChromaDex's Niagen ingredient.
"We remain steadfast in our mission to provide the transformative power of Niagen (NR) to all and are proud to partner with Zesty Paws to enhance the healthy aging journey for our pooches," said Rob Fried, chief executive officer of ChromaDex.
The new Healthy Aging NAD+ Precursor supplement for dogs can help promote metabolic health and cellular energy repair, supporting dogs as they age.
"By combining the ideals of science and nature and upholding the brand's commitment of quality and trusted ingredients included in every formula, we were able to create a groundbreaking product that benefits the healthy aging of dogs inside and out," said Bob Kalil, vice president of product development for Zesty Paws (part of H&H Group). "While this category is in its early stages, our product innovation is a very exciting example of what's to come for supporting longevity for pets."
Zesty Paws teased the new supplement during SUPERZOO 2023 in August and officially launched the product exclusively with Chewy this month. The supplement comes in a pack that includes 60 pill capsules of the Healthy Aging NAD+ Precursor and one jar of Zesty Paws' bacon-flavored Pill Wrap Probiotic Paste.
"Our Healthy Aging line was designed to bring a bit of your dog's puppyhood back," said Yvethe Tyszka, vice president of marketing for Zesty Paws (part of H&H Group). "By replenishing their NAD+ levels, this breakthrough innovation can help promote cell regeneration and support healthy aging, allowing our beloved pets to maintain their vitality and zest for life."
Zesty Paws plans to expand the Healthy Aging supplement to a full line in 2024, offering additional product distribution and launching a powdered format.