23W: Creating A Safe Place for Fitness and Innovation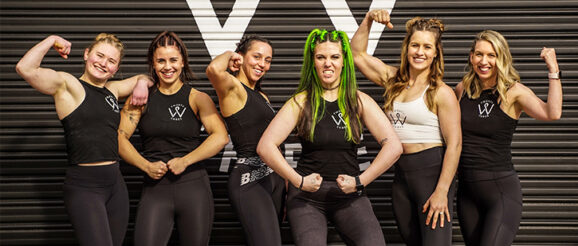 November 2023 Club of the Month, presented by ABC Fitness:
23W, Melbourne, Australia, est. 2018
23W was Ange Drake's, the founder and head coach, response to the lack of fitness spaces primarily for women in the industry and surrounding area. The club provides members a safe space and community of like-minded women whose goals is a healthier life. Drake explained how innovation plays a huge part in offering her growing community the best programming, technology and support possible.
Below, Drake explains how the club came to be, how she keeps up with a constantly evolving industry, the preparation that goes into opening a new club and more.
---
---
How did 23W come about?
23W was the evolution of a small personal training business I started in 2011. For seven years, I worked full time as a physical education teacher while training my clients before and after work hours. By 2017, I was at a breaking point. I was always working, had little time to train myself and was consumed with thoughts of opening my own studio. I realized there was a huge gap in the market. There were very few studios offering small group training for women centered around strength-based training with a mix of other modalities or specializing in the postpartum space. By the end of the year, I asked to take 12 months of leave, and the rest is history.
In the summer of 2018, I was in my element. I hustled to get more clients in the door, took on more hours, changed my business name from Melbourne Fitness Diaries to 23W, rebranded and worked around the clock to renovate our new home. I loved making my schedule and being my own boss. In July, we signed off on our lease and the work began. We had a four-month turnaround time to get the studio ready for business. Our permits came through on the last weekend of October, and we were open and training clients the following Monday.
What is the mission of 23W?
Our mission is to empower women to thrive in life with wellness, wisdom and wonder. 
---
---
What makes 23W unique?
We are a female-only strength and conditioning community that teaches women how to lift weights effectively, nourish their bodies and realize anything is possible. There are quite a few things that set us apart. We know every woman in our group training program. We work with where our clients are at to individualize their programming, goals and habits, and offer one-on-one coaching for accountability and consistency. Our community is also a safe space. Women of all ages, abilities and backgrounds can come together to train and share in the joys and challenges of life. 
What is one trend in the fitness industry you think other operators should keep on their radar?
Integrating technology into fitness experiences. This was one of the main reasons we moved to ABC Trainerize a little over 12 months ago. COVID-19 lockdowns in Melbourne forced us to step outside the box and be more creative and innovative to meet our members' needs. Regardless of the size of your business or studio, keeping this trend on your radar can be crucial for staying competitive and meeting the evolving expectations of your clients.
While AI can be a little scary, it will not replace the human connection you get from a community or trusted coach. By embracing technology, we're able to streamline administration, personalize member experience, offer improved, more timely guidance and continue to create a more holistic approach to health and wellness beyond the walls of our gyms.
What is your favorite thing about partnering with ABC Fitness? 
I was initially drawn to ABC Fitness for its extensive capacity to use both a habits-based approach to coaching and more complex macros tracking for others. I love that you can customize the software including the creation of your own exercise library. As a studio with multiple trainers, it's also a great way to coach and seamlessly ensure consistency in the coaching experience. Twelve months later, the software just keeps getting better and better. The customer support is also spot on. 
---
---
What excites you the most about the fitness industry in 2023? 
I wake up most days completely exhilarated by the opportunities in this industry. At the moment, I love exploring the hybrid model and allowing our members to continue to train with us regardless of location. Further to this, 23W is a community. We have something unique in helping women connect with like-minded people, and we love seeing meaningful, deep friendships form daily. In a fast-paced world, where else do you take time to slow down, check-in and be in the moment with those around you? It's awesome. 
Personally, I'm excited by more conversations around gut health, food and recovery technologies. Early next year, I'm installing a traditional sauna in my home. I'm constantly thinking about how to find the space for a cryotherapy or sauna zone in our gym.
What advice or encouragement can you give other club owners looking to start new clubs/franchises?
Starting a new club, franchise or studio in the fitness industry is a significant venture that requires careful planning, strategic thinking and a clear understanding of the market. The market is saturated with options so you must conduct thorough market research. This involves understanding your audience, competitors and location. People often think of 23W as an overnight success. What they may not know is I spent five years before opening learning about our unique selling proposition, building our brand, and testing and re-developing. Having said this, there comes a point where you need to hit the go button. You will never have all the information or a crystal ball into the future. Anything can pop up from economic downturns, competition or pandemics. The most crucial element is your passion, motivation and grit to show up and do the work. 
Created in partnership with ABC Fitness. Visit  for more information on how they can help your fitness business.
The post 23W: Creating A Safe Place for Fitness and Innovation appeared first on Club Solutions Magazine.