3 ways CIOs and CISOs can encourage innovation in their organizations | CIO Dive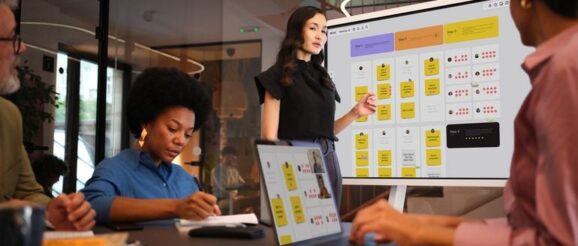 In an era defined by rapid technological advancements, there is near universal agreement among leaders and information workers at modern enterprises that innovation is urgent — 98% and 90%, respectively.1 But the path to developing and delivering innovative products or services isn't always clear.
In addition to offering insight into how people view innovation today, our recent report "Risk vs. Reward: Innovation in modern enterprises" highlights the roadblocks that get in their way. Some of the most significant include technological obstacles (e.g. legacy technology) and organizational challenges (e.g. siloed teams), according to nearly one-third of both leaders and information workers.
As CIOs, we're positioned at the intersection of technology and strategy and so play a pivotal role in fostering an environment that unlocks innovation. Here are three considerations to keep top-of-mind as you strive to facilitate innovation within your own organizations.
1. Make sure your tech stack supports strong collaboration
Innovation isn't a solitary endeavor — it thrives on collaboration. So, a tech stack that doesn't support collaboration can hinder innovation. When it comes to the tools that can make or break innovation efforts, 30% of information workers say a fragmented tech stack is a significant barrier to progress. Outdated legacy technology also emerged as a significant barrier to progress. A substantial 40% of leaders, backed by 35% of information workers, believe that legacy tools stifle creativity.1 
To mitigate this, equip teams with the right tools, frameworks, and training. This means investing in platforms that facilitate real-time communication, collaborative ideation, and feedback loops irrespective of geographical barriers. This is especially important for hybrid and distributed teams. 
To pinpoint outdated tools, overlapping systems, and bottlenecks, start by performing a meticulous technology audit. In doing so, be sure to identify priority mitigations, outline acceptable risks, and communicate these decisions transparently to stakeholders. It's important to remember, though, that an audit should inform, not dominate, your IT roadmap.
2. Prioritize security with strong partnerships
The balance between innovation and security is delicate. SaaS solutions drive innovation, but they also introduce unique security considerations and risks. Pursuing innovation responsibly demands comprehensive strategies around access control, meticulous data flow management, and consistency in security measures.
And yet, IT teams often face challenges from tools that individual product and technology teams have selected, which might bypass centralized security control measures. Forming partnerships with SaaS providers who prioritize security helps ensure that projects related to the development and delivery of new products and services are safeguarded and align with security policies. 
Focus on solutions that:
3. Enable safe experimentation and validation of innovation
In the rapidly evolving tech landscape, experimentation is pivotal to uncovering new opportunities. Equally crucial is the ability to rapidly validate experimental hypotheses. To experiment and validate safely, adopt a risk-based approach, narrowing down the compliance scope. This not only mitigates risks but also accelerates the process.
By operating on a secure platform that satisfies a myriad of security requisites, there's enhanced flexibility. Data classifications paired with corresponding policy controls allow for adaptability through the innovation journey, minimizing risk and compliance concerns.
Controlling the data introduced at each innovation stage reduces risk. This controlled approach results in smoother experimentation and quicker hypothesis validation and safeguards against potential costly blunders, paving the way for a more flexible process.
To cultivate a low-risk environment for experimentation and validation:
The benefits of innovation go beyond business goals
More than just fostering novel ideas and groundbreaking solutions, innovation creates a workplace where teams feel more motivated and engaged. The evidence for this is strong: 76% of information workers believe that innovation enhances cross-functional collaboration and 78% say that it fosters a healthier, more positive work culture. Seventy-eight percent also agree that innovation supports employee engagement — a key ingredient for happy, creative, and productive teams.1
For CIOs and leaders, the message is clear: Pave the path to innovation, and you're not only charting the course for business success but also nurturing a workspace that reverberates with humanity, collaboration, and purpose.
1To gain insights into the state of innovation in this unique moment, Miro conducted an online CAWI survey in July 2023. We surveyed 1,792 leaders — including heads, VPs, and C-level executives — and 8,261 full-time information workers in product, design, engineering, UX, project management, and other roles involved in product development workflows at enterprises. These leaders and information workers represent seven global markets — Australia, Germany, France, Japan, Netherlands, the United Kingdom, and the United States.