5 Reasons to Attend the Nursing Innovation Summit – Consult QD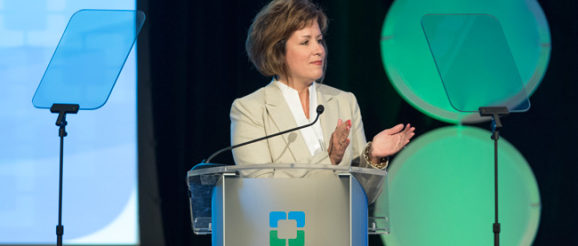 By Kelly Hancock, DNP, RN, NE-BC
Cleveland Clinic is a non-profit academic medical center. Advertising on our site helps support our mission. We do not endorse non-Cleveland Clinic products or services Policy
For years, innovation in nursing has been giving healthcare organizations new insight, creating possibilities that previously didn't exist, opening doors to opportunity, progressing the nursing profession, and bringing value to care delivery, outcomes and patient experience.
By nature, nurses are inquisitive and with healthcare's swift pace, ongoing advancements and ever-changing technology, this is a good thing. The opportunity to ask questions, ponder processes or consider alternative ways of thinking is natural, necessary and the first step in a nurse's journey to innovation. One of the common misconceptions about innovation is that it is only for executives, leaders or managers; however, innovation is for everyone!
On Friday, Oct. 19, all nurses – no matter their role or job title – who are curious about innovation should plan to attend Cleveland Clinic's 6th Annual Nursing Innovation Summit. The summit will be held at the Cleveland Marriott East in Warrensville Heights, Ohio from 7:30 a.m. to 4:30 p.m. EST (opening remarks begin at 8 a.m.) and will feature a number of globally renowned speakers, presenters, panelists and more. For a quick look at the day's highlights, check out these 10 things you won't want to miss!
If you are still unsure about attending, here are five reasons why you should be there:
An abundance of information will be shared and discussed. From prestigious keynote presentations on topics such as 'Innovation-based Practice' and 'Can Innovation be Taught?' to an 'Ask The Experts' panel and more, the 6th Annual Nursing Innovation Summit will:

Foster a culture of innovation.
Provide education on the cultivation of ideas.
Challenge assumptions.
Provide resources to create solutions.
Highlight successful invention experiences.
Innovation in nursing is exciting. Nursing innovation has become an incredible facet of our profession. There are so many exciting ways it has changed and transformed nursing practice. Innovations are delivering great benefits to all from colored IV tubing and safe patient-handling technology to virtual sitters, virtual health communities, apps that assist patients in managing disease or nurses with patient assessments.
Innovation in nursing is a strategic necessity. As nurses, innovation is an important part of our professional responsibility. No matter what title or position you hold, nurses should care about advancing care. It is one of the most important ways for healthcare organizations to accelerate the pace of change in today's healthcare environment. Additionally, innovation gives nurses the tools needed to work smarter, not harder.
Innovation helps create and capture value. While the advantages of innovation in nursing are limitless, one of the most prominent is that being innovative helps create and capture value. With this added value, we are better positioned to overcome many of today's healthcare challenges, like reducing costs, creating efficiencies, improving clinical outcomes, and easing the burden of care.
Innovation paves the way for future success. Think about what the future could hold if we all took our creative ideas and problem-solving strategies from concept to reality? We would bring new dimensions of possibility to our work, create alternatives to known best practices and past successes, and directly advance the professional practice of nursing as well as the future of healthcare.
Register to join us today! Early registration is available now through Oct. 1, 2018.
For more information, view the agenda, get directions, and learn about how this conference may fulfill continuing nursing education accreditation.
Kelly Hancock is the Executive Chief Nursing Officer of the Cleveland Clinic Health System, and Chief Nursing Officer of Cleveland Clinic Main Campus.
Follow Kelly on Twitter at @kkellyhancock.