£50,000 up for grabs at Newry tech and innovation competition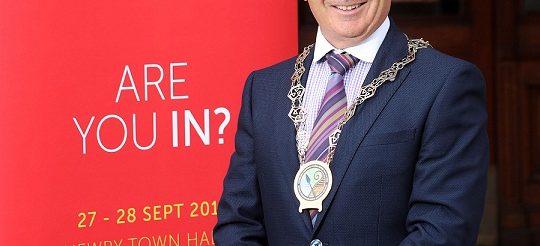 Early-stage start-ups could walk away with £50,000-worth of cash and business support at the Innovation Nation 2018 Ascend Start-up Competition this month.
The inaugural tech and innovation conference – taking place in Newry on 27 September – has teamed up with leading start-up platform Startacus to deliver the all-island pitch competition where up to 12 early-stage start-ups will be given a platform to showcase their latest innovation.
The Ascend Start-up Competition will see start-ups with high growth potential from the digital and tech sectors taking to the stage to pitch their business to a panel of industry leaders and enterprise experts, as well as in front of the Innovation Nation 2018 attendees.
The winning start-up, to be announced at the Innovation Nation 2018 Dinner on Thursday 27 September at the Newry Town Hall, will receive a cash prize of £3,000, as part of a wider £50,000 package of high value corporate and professional services.
The Ascend judging panel is made up of Kevin McGivern of Kx, Ashleen Feeney of KPMG in Northern Ireland, Fiona McElroy of Ulster University and Garrett O'Hare of Flexi Work Space.
Speaking to Newry Times, Kevin McGivern of Kx commented, "We are thrilled to be supporting Innovation Nation 2018, and in particular the Ascend Start-up Competition, which will celebrate and highlight the wealth of entrepreneurial talent across the island of Ireland.
"With a significant prize package worth over £50,000, the winning start-up will receive industry-leading professional and business advisory services from some of the event's key sponsors, and I have no doubt Ascend will prove a success at the inaugural Innovation Nation."
Cllr Mark Murnin, chair of Newry, Mourne and Down District Council added, "We are pleased to offer a platform for the significant level of start-up talent that exists across the Newry, Mourne and Down district, and indeed across the island of Ireland.
"With innovation and technology now infiltrating every aspect of our work and personal life, Innovation Nation is a must-attend event for anyone interested in the fourth industrial revolution taking place all around," he added.
Innovation Nation 2018, which is being run by Newry, Mourne and Down District Council and a number of supporting partners from the public and private sectors, will show how organisations can use the latest innovations and technology to drive their businesses and will shine a light on the burgeoning tech scene in Newry and the surrounding area.
The conference will take place on the 27 and 28 September, with the second day delivered in partnership with Catalyst Inc. which is lending its expertise to shape an exciting programme for up to 300 school children from 10 schools across the Council area.
To apply for the Ascend Start-up Competition or for more information visit: www.nmdinnovationnation.com.