9 Inspirational Stories of Sustainable Architecture and Innovation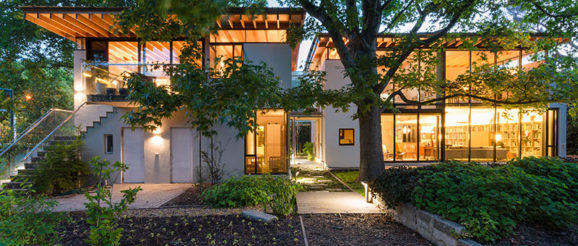 The nine winners of the AfriSam-SAIA Award for Sustainable Architecture + Innovation for 2017/18 were announced at a prestigious event at Zeitz MOCAA in Cape Town last week. 
The biennial awards event organised by construction materials supplier AfriSam and the South African Institute of Architecture (SAIA) seeks to recognise projects that bring sustainable innovation to living environments through collaborative and integrated approaches to community, planning, design, architecture, building practice, natural systems and technology.
These are the winners by category:
Category A – Sustainable Architecture:
A new building or group of buildings; the conservation, restoration and rehabilitation or refurbishment of existing buildings, historic precincts or areas.
House Burnett Prinsloo by Robert de Jager, Architect
House Burnett Prinsloo, by Robert de Jager, took every detail of the site and the owners' needs into consideration for this project. "Absolutely every aspect of thermal transfer, natural lighting was calculated and used as a driver in design." – Richard Stretton, Koop Design
Fulham Heights by Local Studio (Pty) Ltd
Fulham Heights, by Local Studio, is a conversion of an old corner shop in Brixton into retail, office and residential space. The project is a source of inspiration for its regeneration of a notoriously high-crime area through traffic and activity. "What would the world be like without idealists? What would it be like if people like Tom were not there as a champion? I don't see how else things are going to change." – Dr Sechaba Maape, sustainability architecture academic and architect.
House Gardiner by Simply Sustainable
Architect Paul Marais looked to ancient building techniques to find a solution for this eco-estate. Using a modernised version of rammed earth construction, Simply Sustainable was able to build using materials excavated from the site. This technique which is low in material costs but high in labour costs creates jobs and transferable skills for the local community.
RBDIZ Entrance Gate by Jeremy Steere Architect
The Richards Bay Industrial Development Zone Entrance Gate is a bold statement of arrival by the Richards Bay Industrial Development Zone. Senior architect Jeremy Steere looked to his assistant architect Sphelele Mhlongo to help deliver the "sexiness" of the project that the client was after.
Category B – Research in Sustainability:
Practice-based/action research work, qualitative or quantitative research project or report of social importance; technical importance or research in the field of sustainability in the built environment that contributes to the field of sustainability.
A framework for a green infrastructure planning approach in the Gauteng City-Region by Gauteng City-Region Observatory
The Gauteng City Region Observatory's research publication entitled 'Green Infrastructure in the City Region' provides an introduction to the concept and value of green infrastructure  and offers a roadmap for South Africa cities to incorporate sustainability into their policy and planning.
Category C – Sustainable Products & Technology:
A product or technology of social importance and technical significance in the field of sustainability and the living environment.
Rambrick by Use It Waste Beneficiation (RF) NPC
Rambrick is a wholly sustainable building product developed by Use it Waste Beneficiation (RF) NPC. Thirty to forty per cent of building rubble ends up in our landfills. Rambrick uses compressed earth technology and a waterless production process to turn the waste materials into a sustainable, strong and eco-friendly building material.
hearScreen by hearX Group
hearScreen by the hearX Group is a smartphone operated hearing test that can be used to pick up hearing difficulties in schoolchildren and communities that have limited medical and financial resources. "In this country there are lots of wonderful things that happen, and this is really one of them. It's an incredibly efficient, simple solution to what is a very complicated thing." – Philippa Tumubweinee, academic and co-founder of IZUBA INafrica Architects
Category D – Sustainable Social Programmes:
A project of social importance in the field of sustainability and the living environment.
Silindokuhle Preschool by Collectif Saga
Ntombizandile Patricia Piyani is a social worker decided to start a pre-school in Joe Slovo. With a very small budget the architects from Collectif Saga sourced reclaimed and recycled materials before designing the project and then enlisted members of the community to help build it. "What drives the building isn't a preconception of what a building can be, or an idea about materiality, what drives the building is what they've got." – Richard Stretton, Koop Design
The Wilds – revitalising a forgotten public space by James Delaney
Artist James Delaney took it upon himself to start a one-man clean up of The Wilds, a 40-acre green space in the heart of Johannesburg which had largely been neglected by both citizens and the Johannesburg Parks Department. With sheer determination coupled with charm Delaney managed to recruit volunteers as well as motivating the city to get involved in the maintenance of the historic site. He has also populated the park with his own animal sculptures.
These projects should be pure inspiration for all South Africans to shift their mindsets towards more sustainable lifestyles as Niraksha Singh, AfriSam Raw Materials and Sustainability Manager explains: "The recipients of the various awards have demonstrated that if we each take responsibility in shifting our own behaviour, we can trigger the type of change that is necessary to achieve sustainability for human other organisms on our planet. They have taught us that we can change our planet, our environment and our humanity every day, every year, every decade, and every millennium."
Read A Quick Guide to Living Sustainably, Beazley Designs of the Year 2018: Sustainable Design and Sustainable style at these eco hotels next.