Iraqi immigrant's startup thrives at Framingham State Innovation Center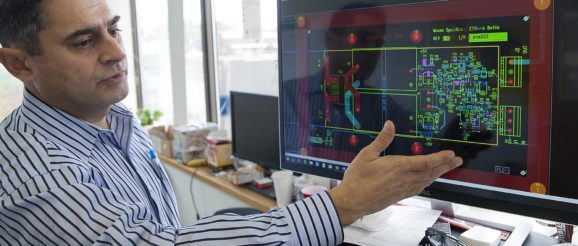 When Saad Thabit started working in the U.S., his first few employers had him work as a test bench engineer. But he said he knew he wasn't being challenged, and decided that his best course of action was to work with startups.
FRAMINGHAM – Saad Thabit can still remember his first six months in the United States, which he spent working odd jobs while searching for opportunities to apply the electrical engineering skills he studied in college in Baghdad.
"I worked everything – from retail to pumping gas. Whatever put food on the table, I did," he said.
That was 1995, and Thabit had just left Iraq with his wife and infant daughter, as building a life there wasn't a viable option. Due to trade embargoes in his home country, he said, simple health services such as regular vaccination shots were out of the question.
"The country was in turmoil back then," he said. "Even if you had money and the support to go and get what you needed, you couldn't find them."
Thabit applied to the Diversity Green Card Lottery, taking a chance that he'd be selected from among thousands of other immigrants to start a new life in the United States.
He got his break.
Twenty-three years later, on a sunny day in his office at Framingham State University's Entrepreneur Innovation Center, Thabit, who owns and operates DRF Engineering Services, a software engineering consulting firm, reflected on his many years in the U.S. and outlined plans for his business.
"I don't call it a job," Thabit said "It's a hobby for me. I enjoy it. And if you enjoy your work, you don't have to worry about anything."
Thabit develops hardware used to convert different forms of power.
"The solar panel that comes on a roof has a fixed DC (direct current) voltage, but the wall in the house has 120-volt AC (alternating current)," he said. "So in between the two there is a piece of hardware that converts that DC power into AC (power), and that's what I do."
While the technical expertise required to understand Thabit's business may seem daunting, the real-world applications of his skills can perhaps be understood through the projects and technologies he's worked on and developed.
Thabit, 51, has been able to get his hands on military-grade drones that deliver packages, ECG systems used to measure the heart rate of small animals, 3D metal printers and management systems used to control streetlights.
Thabit runs and operates DRF on his own, but does enlist the help of contractors for larger projects. Thabit said he has about 19 clients comprising both big and small companies, including Framingham-based Mouse Specifics Inc., a developer of tools for characterizing animal physiology that supports research for treating human diseases.
"He's able to see things you and I can't see," said Tom Hampton, founder of Mouse Specifics. "He's got the background and expertise to figure out the electronics behind very important things."
When he started working in the field, his first few employers had him work as a test bench engineer, but Thabit said he knew he wasn't being challenged and working to his potential. He decided that the best course of action was to work with startups.
"Working with an established company is beneficial, but doesn't have a lot to learn from," he said. "I took the hard path of working with startups."
Thabit has worked at three startups, including Beacon Power Corp., Gridco Systems and Altertous Energies, serving as principal engineer for all of them. But he wanted to work on his own terms and focus on a specific area: helping customers solve their engineering problems, free of distractions.
"When you are part of a team, what you end up doing is spending a lot of time in meetings and other things," he said. "In my case, right now I don't have that. All that I do is design work, and this is what I really want."
Thabit said he appreciates having a dedicated space to come to every day. When he started his business, he would work at the kitchen table and get distracted by his wife and two children.
The Entrepreneur Innovation Center, at 860 Worcester Road, serves as an incubator for startups as well as a space for FSU students to learn about running a business. For $135 a month, Thabit has access to such amenities as free printing, a mailbox and space to do his work.
"The center has been nothing but supportive," he said.
Although Thabit doesn't have employees, he does use student interns to assist him with administrative work.
"They help with a lot of things," he said. "In my case, they did my marketing, my billing, my expenses. They help me with documenting my expense reports."
Thabit's daughter, Dima, said her parents' move to the U.S has inspired her to help other immigrants. An occupational therapist, Dima helps children with a range of disabilities. One of her career goals is helping children who have recently settled in the United States.
Dima said although her family's move to the United States wasn't necessarily violent, for a lot children it can be.
"I really want to work with immigrants in that capacity," she said.
Upcoming plans for DRF include opening a second space that would serve as a production shop. Thabit said he would also like to work with refugees who have recently come to the United States who are being assisted by the Jewish Family Service.
"That's where my thoughts are right now," he said. "Grow the business and provide service to others by building hardware for them, using immigrants and refugees to support that process."