Ableton Announces Live 12: Packed With Playful MIDI Tools, Innovation and Enhancements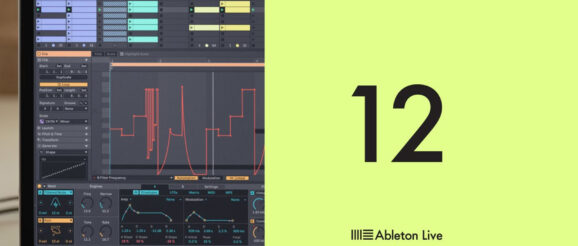 Well, it's been a busy year for the German music company Ableton, having only just dropped Push 3 in late August. Now, Ableton has dropped the much-anticipated release of Live 12, a huge update packed with new instruments, devices, a new MIDI generator and mixer view plus loads of awesome new workflow refinements that you never even knew you needed. However, you'll need to wait until early 2024 for the release to be available so stay tuned to plenty of noise being made between now and then. 
Play Freely with Ideas
One of the standout features of Live 12 for me is the introduction of new MIDI tools for generating unexpected musical ideas. MIDI Transformations and Generators allow you to create simple or complex variations to MIDI clips, add ornaments, connect notes and chords, simulate guitar strums, or even use generative algorithms to conjure up melodies, rhythms, and chords. The MIDI Editor has also seen improvements, offering greater flexibility in rearranging notes by pitch, velocity, or duration. Chefs kiss. 
New Devices!
It wouldn't be a new version of Live without some new instrument devices, right? Live 12 introduces Meld, a bi-timbral, MPE-capable instrument designed for deep sound-shaping and Roar is a colouring and saturation effect for mastering-grade warmth or wild sound degradation. Granulator III, the latest iteration of Robert Henke's granular instrument with MPE capability plus there's a tonne of new packs, including the Performance Pack and Lost and Found collection, offer exciting tools for on-the-fly performances and unique foley recordings.
Work faster.
Live 12 enhances the workflow with Stacked Detail Views, giving users an overview of everything a track is doing at a glance. The Mixer, previously available only in Session View, is now accessible in Arrangement View with improved accuracy and control. The browser comes with tagging, sound similarity search, and View styling, offering a cleaner and more modern look to keep the focus on music.
Special Promotions for Live 11 Users
With the upcoming release of Live 12, Ableton is offering users 20% off all new Live 11 licenses and upgrades from previous versions. This unique offer allows users to upgrade to Live 12 for free upon its release in early 2024. The promotion runs until the release date, providing an exciting opportunity for users to get a head start on their creative journey with Ableton Live.
Ableton Live 12 is set to be available in early 2024. During the promotional period, Live 11 editions are available at a 20% discount. Prices for Live 12 are as follows:
Live Intro: $149 
Live Standard: $529 
Live Suite: $1099 
Existing Ableton Live owners are encouraged to log in to their accounts to check upgrade pricing. Live 12 will be available for purchase from Ableton.com
The post Ableton Announces Live 12: Packed With Playful MIDI Tools, Innovation and Enhancements appeared first on Noisegate.