Aegean CEO outlines approach to people-driven innovation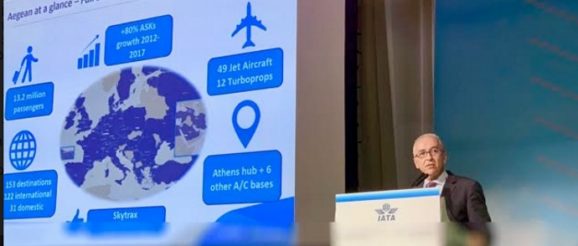 During his speech at the IATA Global Airport and Passenger Symposium (GAPS), Aegean Airlines CEO Dimitrios Gerogiannis said that technology, in and of itself, is not the source of innovation and cannot promise improvements in service or operational efficiency. Gerogiannis said that Aegean's focus is instead on using technology as a tool to accomplish the main aims of the airline, as appropriate.
Gerogiannis credited the airline's people for the growth of the airline and for being the primary drivers and focus of innovation.
He said:
"Growth is not an end of itself. It must be profitable and it has to be financed by results. We have been developing the international market since 2006 and we are fanatically focused on two things: quality of service and operational efficiency, and productivity.

"Quality of service allows us to differentiate from our competitors, both full-service competitors and the low-cost competitors. Operational efficiency allows us to be competitive on price.

"We believe that the quality that differentiates Aegean is our people. We keep investing in training and developing the skills of our people.

"It is not the metal and it is not the technology that makes the difference. Technology can be imitated. What cannot be imitated is the quality and skills of our people. We invest a lot in developing and training our people and giving our people possibilities to grow professionally.

"We continuously invest in technology both on the front line for the customer directly, for the services of our customers, but also to simplify the processes that take place during day-to-day operations. Everything that we do that simplifies the job of our people eventually leads to better services for our customers. Our people are free from doing things that are not delivering customer value."
Innovation defined as the introduction of new technologies alone, Gerogiannis believes, is insufficient.
"Technology is not innovation for us, in itself. Why? Because it's very easy to imitate. Technology allows you to avoid a competitive disadvantage versus your competitors, but in itself it does not give you competitive advantage.

"We've tried to develop and create innovation…The way we understand innovation at Aegean is through the customer-centric culture that our people develop, including front-line people – crew, baggage handling, call center and customer service agents – and also our back office. The whole organization must think of our customers. We must have the customer at the center of every decision that we make today. Nobody understands the needs of our customers through the  journey better than our own people. They have the customers in their hands throughout the trip.

"The best source of innovation for customer service is our own people. This is what we try to extract from our organization. Innovation is not a top down process. Innovation is a bottom up process if the organization has the right culture. We use it to improve customer experiences and to simplify the day-to-day job of our people and to empower our people."
Based on employee feedback, insights drawn from their customer service experience also aims to make operations less tedious for customers and staff, Aegean has moved towards self-service technology, though this is always backed by staff readily available to answer questions.
The airline has introduced baggage tracking into its app and self-reporting which allows the airline to notify customers if their bags where not loaded on the aircraft or will be delayed in arriving. It also provides a digital interface for reporting mishandled and missing bags which avoids customers having to queue up at an airport service desk to file the paperwork. Customers also get updates on the status of their missing bags from the airline.
The focus for the airline is to apply technology especially to manage disruption, when it can boost the effectiveness of staff to manage customer expectations.
"We try to take the pain point from the customer to make it as pleasant and time saving as possible. Your customer service is when things are not going well. People take it for granted when things are going well. We are working on the disruption process. How we can best serve the customer during disruption? Did we manage a pain point well? Then we win a passenger forever."
The airline also extended a flight updates application, originally intended to help flight crew better plan and manage their flights but which is now capable of providing valuable CRM insights for cabin crew. Both cabin crew and flight crew are equipped with tablets that give them real-time updates on passenger manifests, and other information affecting the flight. The CRM system also connects cabin crew directly with customer service agents so that they can follow-up with customers on the ground when issues arise.
"Real-time customer related issues on the tablet is a wealth of information that we use not only to improve the service to our customers but also we get information on the day-to-day operation of the company. The same operation is loaded to the iPad of the cockpit crew and they can report every issue they had on their flight.

"It is a bottom up process. We get our crew and our grand staff involved in knowing what services our customers need."