Ageless Innovation Teams Up with Hasbro to Reimagine Iconic Games for Older Adults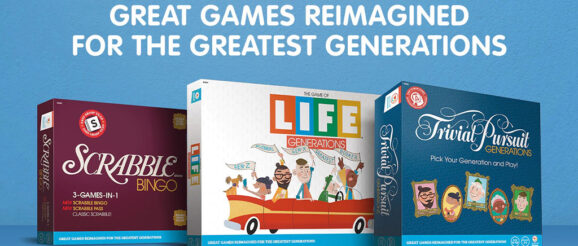 Some of Hasbro's greatest games are being reimagined for older adults. 
Ageless Innovation, a global company that develops engaging products for older adults, has revealed plans to reimagine three classic board games from Hasbro: The Game of Life, Scrabble, and Trivial Pursuit. As Hasbro's first licensee dedicated to enhancing the lives of older adults through play experiences, Ageless Innovation aims to encourage intergenerational play among families with easy-to-grasp pieces, easy-to-read content, and intergenerational storylines. 
"At Ageless Innovation, we strive each day to find new ways to bring joy to older adults and their families, and our partnership with Hasbro represents a breakthrough that promotes inclusion and accessibility in games at a mainstream scale," says Ted Fischer, Co-Founder and CEO of Ageless Innovation.
These new games expand upon Ageless Innovation's existing collection of Joy for All products, which includes a line of animatronic companion pets and card-based games that facilitate intergenerational connection. Ageless Innovation products have been shown to combat loneliness, social isolation, and forms of cognitive decline as well as improve overall well-being for older adults.
"By reimagining our beloved properties alongside Ageless Innovation, we're able to ensure that older adults can continue to be part of the fun of and create new intergenerational memories that will be cherished," says Jess Richardson, Vice President, Global Toys & Games, Licensed Consumer Products at Hasbro.
The Game of Life Generations features the Greatest Generation, Baby Boomers, Generation X, Millennials, and Generation Z. Players travel a life path infused with humorous cultural and lifestyle references and experiences unique to each generation.
Scrabble Bingo has three games in one. Players can choose Classic Scrabble or one of the two new ways: Scrabble Bingo and Scrabble Pass. Scrabble Bingo adds a Bingo flair to the traditional game, while Scrabble Pass incorporates a 30-second sand timer, encouraging constant action during gameplay. New easy-to-grasp tiles are specially designed to be easier to handle and see during play. 
Trivial Pursuit Generations taps into fans' enduring love of Trivial Pursuit, featuring generation-specific trivia. Using the six traditional categories, 1500 new questions are segmented by the Greatest Generation, Baby Boomers, Generation X, Millennials, and Generation Z. One fun and interactive twist made to the game is the additional deck dedicated to personal trivia where players can bond over sharing personal memories.
The Game of Life Generations, Scrabble Bingo, and Trivial Pursuit Generations are all available for presale now on . The games will also be available for purchase through most major retailers and distributed through select healthcare partners in June.