American Egg Board cracks open food, beverage innovation with Eggcelerator Lab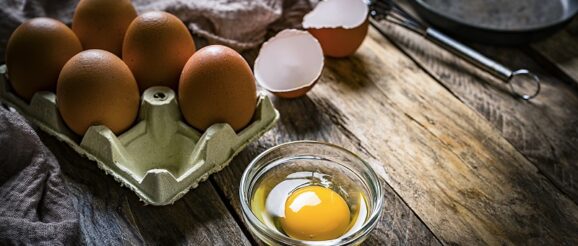 "The Eggcelerator lab really started … three and a half years ago when we put together our five-year strategic plan, and it was really the vision of our board and industry acknowledging that innovation within the egg industry [has] a gap,​" Hedtke said. "There was an overwhelming feeling that there's an opportunity to kind of accelerate [and] transform the industry through innovation.​"
Kickstarting innovation in the egg industry
Officially opened in the fall of 2022, the Eggcelerator Lab brings together experts across the food and beverage industry, including researchers, subject matter experts in the field, and insights through its partnership with clean-label food innovation company CuliNEX, to find whitespace innovation, Hedtke said. The Eggcelerator Lab is focused on three key areas: exploring new technology, yolk innovation, and new categories, like beverage and snacking.
The Eggcelerator Lab features two key tools to help CPG companies start. The Opportunity, Visualize, Validate, and Operationalize (O.V.V.O.) Innovation Process is a four-part innovation process that spans whitespace analysis through the commercialization process. For ideation, the O.V.V.O. Concept Library includes over 250 egg-based recipes and ideas backed up by market research to help CPG companies.
The Eggcelerator Lab is also designed to be "methodical, but very customizable,​" and CPG companies can come to AEB at any part of the product development process for assistance on how best to use eggs, Hedtke said.
"We built the process with the mindset of we want clients to choose their own adventure. So, the process encompasses everything that would need to happen from start to finish if we were running the entire project, but we recognize that that's typically not the case. Typically, what clients do is they bring us in to support a part of the process.​"
Though a product from the Eggcelerator Lab has yet to come to market, the AEB is actively working with several clients. They've protyped and tested several products and are "very optimistic that going into 2024 some of those products will start to hit the market.​"
Looking for innovation: What will be the next egg bite?
Several recent market developments provide some areas where the Eggcelrator Lab might find new opportunities. For instance, egg bites splashed on to the market with the help of Starbucks and showed the potential of sous vide technology, Hedtke said.
"There's a lot of technologies there that, in some cases, other food categories are using, but eggs aren't. And in some cases, they're used outside of food, but they could have application in food. And those are the types of things that I think can really transform an industry, and I'm excited that the team is working on those things.​"
Other areas of innovation include different egg forms like sunny-side-up eggs, which has historically been only a breakfast food item, Hedtke said. Additionally, eggs have an opportunity in high-growth categories like snacks and beverage, and AEB showcased an egg-based coffee at the recent IFT FIRST event.
"We are also spending significant resources to develop new technologies and new products ourselves in-house through the use of CuliNEX, R&D, support and network, and the intent there is to actually create new to the world things that we can at a certain point take to the market and identify partners that we would want to work with to commercialize those things.​" 
But what about supply chain constraints?
While the egg market has grappled with supply chain and price issues this year​, Hedtke doesn't see these impacting egg-based food and beverage innovation, as companies are used to fluctuation in key ingredients and understand how they often resolve themselves in time.
"You're playing the long game within the game of innovation, and you can't just … turn it off and expect to turn it on the next day. And so, for organizations that understand that they realize that the short-term supply disruptions are just that; they're a blip on the screen. And at the end of the day, they can't allow those to kind of disrupt their longer-term growth and innovation plans.​"
When it comes replacing eggs as an ingredient in products, there might be an opportunity to engage with companies to showcase the benefits of eggs in product formulation whether that's taste, texture, emulsification, or other properties, Hedtke said.
While many plant-based products are marketed for vegan and vegetarian, AEB "actually [sees] a role for eggs to play in some of those products​" geared towards flexitarians, he said. AEB has tested eggs in various plant-based nuggets and sausage to improve texture and taste with extrusion technology, and eggs also provide an opportunity to clean up product labels and reduce the ingredients in certain products, he said.
"When I think about supply disruptions, when I think about price fluctuations, I think it comes back to eggs provide functionality that are unmatched by one-to-one unmatched by other ingredients. And I think innovation needs to be a focus regardless of supply disruptions just if you want to stay ahead in this world.​"