Americans win Nobel Economic Prize for work on climate and tech innovation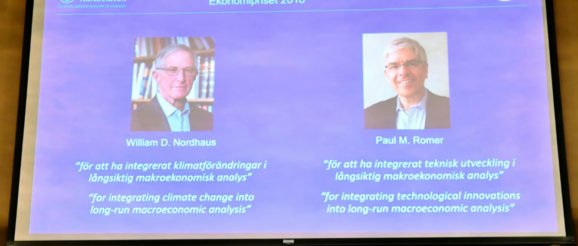 Two Americans were awarded the Nobel Prize in economics on Monday for their work that assessed how the global economy and the climate were intertwined, and how governments can best handle technological advancements in the economy.
The Associated Press reported that William Nordhaus and Paul Romer received the annual award from the Royal Swedish Academy of Sciences. The two men work at Yale University and New York University, respectively.
Romer's studies found that governments should provide research and development opportunities to improve technological change in its economy. His work, the academy said, "explains how ideas are different to other goods and require specific conditions to thrive in a market."
Nordhaus, who worked separately from Romer, created a model that showed how the economy and the climate interacted. He discovered that universally imposed carbon taxes provide the most efficient way to address issues caused by greenhouse gases, the AP reported.
Carbon taxes are imposed on companies that use carbon-based products such as coal and oil to encourage those groups to wind down their use of such fuels.
The award for Nordhaus comes hours after a United Nations panel released a report that warned the world needs to decrease emissions by 45 percent by 2030, or else the atmosphere could hit 1.5 degrees of warming by then.
At that level of warming — as measured as the Earth's average temperature compared with pre-industrial levels — up to 90 percent of tropical coral reefs could die, Arctic warming could cause multiple feet of sea level rise and yields of key crops would drop, according to the report.
President Trump
Donald John TrumpKentucky man goes viral after complaining his name is Brett KavanaghUN report predicts catastrophic consequences if greenhouse gas emissions not reduced by 2030Kanye West quits social media amid pro-Trump commentsMORE, who has expressed skepticism about the existence of climate change and humans' role in it, withdrew the U.S. from the Paris climate accords, which are aimed at reducing global emissions.