How This Novelty Gift Company Gets Open Innovation Right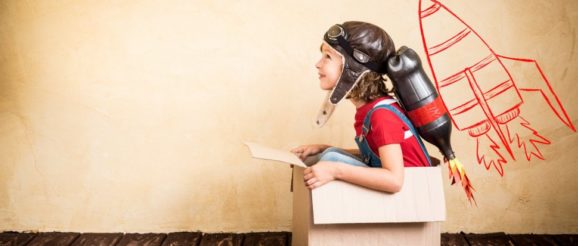 Do you like to create products that make people smile? Consider designing for the novelty gift industry. That's where I kicked off my licensing career.
It was simple: I looked at existing products a bit differently, to see if I could add a little humor. At the mall, I visited all of the shops carrying novelty gifts. My favorite was Hallmark. There were ample opportunities to be creative, because the products were mostly seasonal. So I began creating with the holidays in mind.
Novelty gift companies were easy to work with, which was fantastic. They wanted to hear from me. On the other hand, I discovered a clear drawback of seasonal products — even though I licensed many ideas, sales never lasted long, resulting in small spurts of income.
My advice? Focus your creativity on events that are celebrated every single day, like birthdays and anniversaries. Consider how novelty gifts intersect with other industries, like sports merchandising. That's where Sef Chang, a graduate from the Art Center College of Design, began directing his efforts after licensing a telescoping back scratcher that fits on your keychain to Kikkerland Design Inc. It's paid off: Chang licensed his second product creation to Team ProMark, whose products feature the largest sports brands.
Initially, Chang was sure he wanted to design ad campaigns. But when he discovered licensing in an entrepreneurship class his senior year and read my book One Simple Idea, he was struck by the similarities between the two. He liked designing ideas. Executing on them, less so — that's what appealed to him about print ads. He decided he would take his fate into his own hands and began submitting sell sheets that summer. (Later, we met in person and Chang joined my coaching program.)
Today he takes on freelance projects to support his income and pulls back the curtain on what it's like to license your product ideas on his YouTube channel MFSEF Studio. I recommend it.
"What you want to bring to the table is a fresh idea that is marketable," Chang said. Don't overthink it. "Nice-looking is helpful, but your sell sheet doesn't have to be beautiful so long as it communicates the idea."
Like the toy industry, novelty gift companies have been practicing open innovation for a very long time. I approached Kikkerland, the New York City-based design company that produces hundreds of new uniquely adorable goods for the home and office yearly, to learn more about how they work with independent inventors and product creators today. In business for nearly 30 years, the company has found a way to tap into the big benefits of open innovation.
How important are inventors and independent product developers / creative people to the success of your company?
Having exclusive product designs by independent designers is very important — it sets our company apart from other manufacturers. And it's win-win for the designer. Since 1992 we have offered a platform for designers who think VERY differently about product design.
How does Kikkerland find its next great products/product ideas? 
Several ways. We meet designers at trade shows, and we have trade shows to attract designers like ICFF or Wanted Design during Design Week. These shows are not really order writing shows for us — but we are where the designers are. They can see what kind of products we make and get inspired by us.
Which strategies result in the best ideas?
Idea-wise, working with designers that don't know the 'rules' yet. Like students. We do a Design Challenge every year with a college or university. They come up with things that are so 'out there' sometimes! Students don't have the same life restrictions of a house payment or children that an experienced designer might. It frees them from what things 'should' be like.
Do one or two strategies account for most of the new products brought to market? 
It varies season to season. We have two main seasons: Winter and summer. We have an in-house design team we call KDT (Kikkerland Design Team) that work on product line extensions and internal ideas. Then we have a roster of designers we either get design ideas from or we pitch them categories we are working on or want to explore.
Approximately how many submissions does Kikkerland receive online each year?
Via the online submission form about 100-150 submissions a year.
Which kind of marketing material is preferred? (For example, sell sheet, video, or prototype?)
We like early stage concepts the most — the more information the better. A good story is important. Prototypes can help with scale and realization, but are not really necessary at first.
Does Kikkerland look for existing sales? 
Existing sales less so. We like to get in at the beginning if possible. A patent pending is good if the designer has been working on it for some time, but not necessary. It depends how far the designer has gotten. Getting in at the early stage of design can help with product costs. We can better steer a product to fit Kikkerland Design if we can catch it early on in the design process.
IP is very important. It's what sets us apart from our competitors and an important part of our branding. We've been in business since 1992; a lot of other companies try to do what we do. It's important that we keep looking for the new and different and to protect that.
Making a donation is required to submit an idea. That's interesting! How long has that system been in place and has it resulted in a higher quality of ideas submitted?
We started using it in 2015. We were getting so many submissions via email it was hard to keep up. This way we can better track. I think it does help the quality of ideas submitted, and it's a nice way to give back to the community. People feel good about it.
When can an inventor expect to hear back about making a submission? Is feedback typical?
We do our best to get back as soon a possible. Realistically because we are so busy throughout the year, it could be once a month that we are able to go through submissions.
If you believe Kikkerland is the home for your product, my recommendation is to persevere. At that point, we will try to give constructive feedback. It's not always possible. Sometimes even if we really like an idea it can take months to get to it depending on our docket.
Submissions come to us in many ways. So many people have really great ideas. If we are not able to make it, it doesn't mean it's not good. It might be better for another manufacturer, or it may not fit just right with what we are doing at the moment.
On its idea submission form, Kikkerland states that it pays a 5% royalty. Is there anything an inventor can do to get a higher royalty rate?
About how many product ideas does Kikkerland license every year?
We bring to market about 300 new products every year. About 10% may be new licenses. Then we have ongoing agreements if the product remains successful.
Are there any upcoming or planned design challenges we should know about?
We just completed a Design Challenge with Eindhoven Academy of Design in Holland. Out of 31 student design projects we have five new products launched. We are still working on a few more from this challenge that needed more time. A couple of the designs we started didn't end up making it to production due to cost feasibility.
We just started a new Design Challenge with Pratt University. We are partnering with one of our customers, UncommonGoods. With a design challenge, it is interesting to get guidance from a retailer. It's really training the students with a real life design challenge.
What advice do you have for inventors and designers who want to license their ideas to you?
Get to know the brand. Visualize how your product idea would look on the shelves of one of our customers. Is it Bed Bath & Beyond? Is it Museum of Modern Art gift store, or somewhere in between? Retail price is another thing to think about. How much will it cost? And to persevere — keep at it. What doesn't work one year may work the next.
What are your favorite novelty gift companies to invent for?