APT's 2023 Innovation in Design Awards: Winners announced | Architecture Now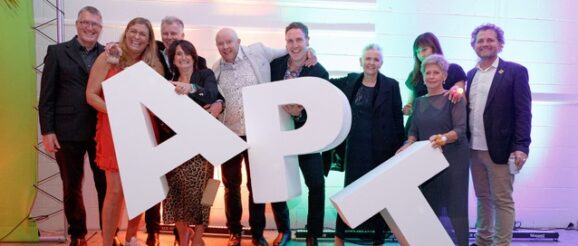 On Thursday, September 7th, APT celebrated its 10th birthday party with a colourful event at Indigo Studios in Ponsonby, surrounded by two hundred of its closest friends and loyal customers. During the event, the 2023 APT Innovation in Design Awards were announced, and prizes were awarded to all finalists.
The four judges of the Awards had to choose winners from an astounding 113 submissions of projects containing Corian® Solid Surface or FENIX® (in some cases, Corian and FENIX).
This year's esteemed jury consisted of Murali Bhaskar from BOON (Taranaki) and Ingrid Geldof from Ingrid Geldof Design (Ōtautahi Christchurch), Sandro Marini from FENIX (Bra, Italy) and Massimo Fucci from Corian (Milan, Italy).
Residential Design Grand Winner
A true collaboration between designer and architect, this eight-metre-long island was designed as a central feature in the combined living-dining-kitchen area of this very sculptural house.
To complement the surrounding spaces and materials, the island needed to be more than a functional workbench, so the designers created a sculpted combination of white concrete and the gorgeous black Corian Deep Night Sky top, which curves and cantilevers from the plinth.
The bench is longer than the functional requirements of the kitchen, to provide seating around the seaward end and to make it of a scale appropriate to the large living and dining areas.
Commercial Design Grand Winner
This multipurpose space featuring thermoformed Corian Rain Cloud was designed for the Commercial Bay offices of Chapman Tripp by the Warren and Mahoney interiors team.
As well as challenging themselves to create a highly usable, designers Scott Compton and Daniel Kempka pushed the limits of the Corian to deliver a more compelling outcome by using only one material for the geometrical top.
Compton speaks highly of the Corian fabrication team at Greenmount Interiors, who worked closely with Warren and Mahoney to achieve this geometrically challenging yet seamless outcome.
Emerging Designer Grand Winner
Ethereal Marine
by Georgia Langridge, Modi Design
Georgia Langridge's client had two key inputs for her kitchen and living space design — her love of marine biology and rimu.
Rather than shy away from what can often be viewed as an 'old-fashioned' timber choice, Langridge and her client wanted to reinvent this timber and bring it into a modern environment.
It was crucial for the other main material to achieve a harmonious balance with the rimu, while not becoming diluted and lacklustre. Corian Dune Prima was perfect for this, with its textural and tonal variation providing modernity and a warm, soft tactility reminiscent of sand and seashells.
The organisers APT, saw the celebration as an opportunity to say "cheers to 10 years of doing business together". Their message: "We will continue to bring you gorgeous (and silica-free) surface brands that you can trust, provide strong technical support so you can continue to push the limits with your designs, hold high levels of stock locally, enabling you to specify with confidence, and deliver our Tiaki programme (which saw over 10,000 native trees planted and protected as at August 2023)."
"It is satisfying to now add 'recognise and reward those specifiers who are innovating in design' to that list. Cheers. Nicky, Bart and the APT team."
To find out more about APT Innovation and to view the full awards gallery, click here.
This content has been created with support from APT Innovation. ArchitectureNow works with a range of partners in the A&D supply sector to create and/or source appropriate content for this website and Architecture NZ magazine.
If your brand or clients are interested in similar creative content email [email protected] to enquire.