As The Austin Housing Market Grows, So Does Its Innovation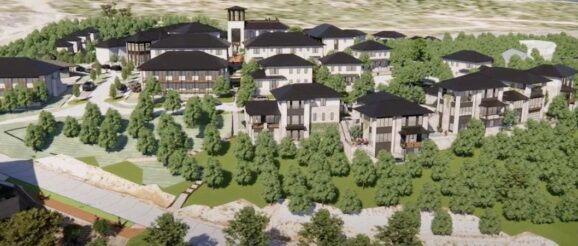 Younger Homes is planning the 19-acre Lago Place sustainable, climate-resilient community located on … [+] Lake Travis, an Austin attraction.
Austin, as the country's fastest growing city and now the tenth largest city in the country, is at the forefront of housing challenges, and taking the opportunity to explore innovative solutions.
Bryan Glasshagel is senior vice president at housing data and consultancy firm Zonda, and tracks Texas markets. He points out that as some of the world's largest tech companies like Tesla, Samsung, Apple, Meta and Oracle, arrive in Austin, the job growth brings in new housing demand.
The city gained 13 headquarters along with 8 expansions in 2022. Many are tech companies, but others like John Deere, Wise, inKind, INK Games, BAE Systems, and Nomi Health, have entered the market as well.
While adding to the city's economic base, the growth puts a lot of pressure on the housing market. Zonda's data shows that starts are down 25% year over year, while closings are up. These dynamics are pushing the city's median existing home price to more than six times its median household income in 2022.
As Austin adds more home buyers to the market, new home construction is missing affordable price … [+] points.
"Smaller lots, smaller homes, and further out locations will likely be the main affordability offsets," Glasshagel said.
As the solutions he identifies are working, at the same time, they are being complimented by some of the most innovative housing solutions in the country.
"This is where all the new things start in Texas," said Keith Hughes, part of the housing start up Veev and formerly with Zonda. "This is where the startups are and where the venture capital is. There aren't a lot in the building industry that want to be leading edge, but Austin is where people will try things."
While the City is luring big technology companies with incentives, anyone coming for the jobs has to pay more to be closer in or drive until they qualify. So, those migrating to town have to try to find something attainable, and they have other needs to fulfill.
"The people attracted to move to Austin have a bigger focus on social impact," Hughes said. "There is a lot of drive and inclination toward green initiatives that doesn't exist in the rest of the state. The Governor famously called Austin a blueberry in a bowl of tomato soup."
He points out that some production builders have identified Austin as a market that will accept and respond to different ideas, so are taking the opportunity to create and try something new there.
Process Innovation
Among the innovators, there are several focused on process improvements that speed delivery of homes, leading to more affordable solutions, and in some cases, more sustainable solutions as well.
One of the most stand out in this regard is ICON, a 3D printing, robotics and software company. The company revealed its "House Zero" in Austin in March 2022 to show the possibilities of additive construction in housing.
A few months later, ICON broke ground on a multi-home development in East Austin with four more 3D-printed homes. The company's proprietary Vulcan construction system is a combination of hardware, materials, and software to build homes faster and to drive down costs.
And now, the company has partnered with one of the country's largest builders, Lennar, in a 100-home, master-planned community that is just outside of Austin. In an exploration of the impacts of technology on housing, the partners are aiming to make more affordable price points that also perform more efficiently.
Another Austin innovator is Chris Krager, a developer, designer and builder at KRDB, a vertically integrated and entrepreneurial firm. The firm focuses on new processes to drive affordability within Austin city limits with some smart infill projects, reducing that need to drive to qualify.
Some of the firm's projects follow a pocket approach to use the many available small tracts, about a quarter acre each, that aren't super attractive developable locations. KRDB makes use of those with smartly designed residences that offer new price points in the area.
Alongside KRDB, the Kelley Design Group is designing creative infill solutions. The owner, Traci Kelley, designed an award-winning 2,700-square-foot home for a narrow infill lot measuring slightly more than 7,000 square feet, while also preserving several large trees. Even with space constraints Kelley created a light-filled home with a flexible, open-concept layout.
KRDB also has been involved in mixed use projects that bring modular construction to fruition, bringing new housing to life faster and in ways that reduce overall project costs. One such project was called MLK and used modular, wood frame technology for the first time in Austin for 245,000 square feet of mixed use that provided an affordable, infill housing solution. The modules were delivered to the site 70% complete to allow this proof-of-concept project to be completed in just five days.
Silicon Valley-based startup Veev is opening a housing manufacturing facility in Austin yet this year to bring its forward-thinking prefab solution to the market and surrounding areas. The company is breaking all kinds of paradigms in the industry to deliver a more affordable and highly efficient housing solution. With 30 pending patents, its new factory in California aspires to produce 500 homes per year.
On a completely different scale of innovation is Bob's Containers, a company repurposing 20' and 40' shipping containers as homes at prices starting around $50,000.
Bob's Containers turns shipping containers quickly into affordable, luxury home, like this one in … [+] Johnson City, TX.
Bob Balderas, founder and CEO of the fast-growing enterprise, is passionate about delivering more affordable and accessible housing.
Similar to the speed of modular construction, putting a container on site is fast. While the land is being developed and prepared, a unit can be designed and finished out in the factory, and the concurrent activities can land a home in place in only 10 weeks after breaking ground.
The company also offers an online purchase process that is fast, driving down the price and allowing for customization along the way. Plus, it has allowed the company to scale. Bob's Containers can ship a new home to anywhere in the country that has the right permitting.
Along the lines of permitting, the policy element doesn't always marry with critical density and affordability objectives.
For example, recent plans for Austin to be home of the tallest tower in Texas were revised, reducing it from 80 to 45 stories. Although not as dense as originally planned, the new design by international architecture studio HKS, addresses accessibility and approachability.
Going Green
Austin has a rich history in green building, sometimes working in concert with the mentioned process innovations. In 1991, Austin Energy Green Building developed the first green residential rating, which has been widely credited as a precursor to LEED.
"The rating systems reward sustainable building practices, lead to high-performing buildings and create market demand for green buildings," said Heidi Kasper, green building and sustainability manager at Austin Energy Green Building. "As the market recognizes sustainable building practices, these measures are incorporated into Austin's codes and local building regulations. We continue to maintain and update the ratings to support City of Austin sustainability goals."
Her group works for local adoption of energy code.
"Many of the amendments we incorporated into code here in Austin went on to be incorporated into the national model code later," she said. "One of my staff, Patricia Chawla, serves on the IECC committee developing the 2024 version of that code."
Gail Vittori and Pliny Fisk, co-directors at the Center for Maximum Potential Building Systems, took … [+] the Buildxact team on a tour, highlighting innovation they are sharing with the industry.
Gail Vittori, is co-director at the Center for Maximum Potential Building Systems, and was a catalyst for Austin's participation in the residential code. She works hand-in-hand with Pliny Fisk, her husband and co-director at the center, who together work tirelessly to develop effective solutions for better performance that can go to scale.
They recently hosted me and the Austin-based construction technology company, Buildxact, on a tour of the center, which is a continuous learning environment and experiment to improve thermal performance, constructability and to drive policy. Our tour included glimpses into winning Texas A&M solar decathlon projects, and a renovation of the U.S. Pentagon.
The center sits in tornado alley, so the co-directors want to donate land to start a 3D-printed community with smart sensors that will be able to identify dangerous weather patterns and send alerts to the homeowners and also to the local community. Plus, what they learn from building the community will be shared widely.
Vittori also consulted on the Holden Hills residential project that is designed to promote sustainability, energy conservation, and health and wellness inside and outside the home. The developer, Stratus, did research that confirms buyers want a safe home, built to protect their health and the natural environment. The property has onsite renewable energy sources that will not only meet the community's needs, but produce excess energy that can be returned to the local electrical grid.
The Holden Hills project will comprise a series of neighborhoods, each designed by leading architects, including Andersson\Wise and Sanders Architecture, and tap into native masonry, plaster, brick, stone and metal roof material that reinforce advanced sustainable building practices.
Another couple driving sustainable practices in Austin is Danielle and Jesse Younger, founders of Younger Homes, who invited me and the CEO of Buildxact, David Murray, into their award-winning home to see what they have been able to accomplish. They have ambitious plans to take the market opportunity of sustainable building practices to a larger scale in the market in a more accessible way, but understand it will take a culture shift.
"The biggest differentiator is walking people through the process, teaching them about what they don't know about having a healthy home," said Danielle. "That's what helps us win the job."
Being focused on optimizing the process is allowing them to lower the typical premium associated with green homes.
"Making sustainability more accessible to everyone starts with more control of the process," said Jesse, who is a self-proclaimed control freak. "We're moved from custom to semi-custom to maximize the efficiency of the building and then maximize the efficiency of the land. You have to be in control of the land to hit the price point without compromising the cost of goods."
They are taking that experience and knowledge into a proposed project, Lago Place, a 19-acre community of 140 net zero living units. The design, done by Danze & Davis Architects, is strategic to make the most use of the topography in Texas hill country, not only for the views, but also to leverage nature for the best ventilation and sun exposure.
By using the Embodied Carbon in Construction Calculator (EC3) tool, they also plan to quantify the embodied carbon in the home construction, something that has been a slippery slope for many builders, slowing down progress for industry adoption.
While new construction has its challenges, home retrofits for better performance have an equally, if not more challenging set of parameters. However, Trey Farmer, an architect at Forge Craft Architecture + Design, led the renovation of a 1914 Austin home to qualify as one of the very few final certified passive house homes in a hot humid climate zone. In fact, the Farmers' average monthly energy bill averages just $10. Theresa Passive House is only the third such home in the state and Phius-certified, source-zero project in the South, meaning the building produces more energy than it consumes.
The Future
In the 1960s, all Texas cities were growing steadily. Dallas, Houston and San Antonio constructed interstate loops around the city to facilitate the growth, but Austin purposefully decided not to do that, said Hughes.
Since the 1990s, Austin has been desperately trying to catch up with roads and infrastructure. And even though there is a large migration of people to Austin, there still aren't many public transportation options, and city services have not expanded.
While the city needs to manage these dynamics to continue to be an attractive destination, some migrating to Austin are taking ownership of solutions. For instance, Elon Musk purchased thousands of acres of land near Austin to establish a new town named Snailbrook that will offer lower cost housing for his companies' employees.
Whoever owns them, the numerous dynamics Austin is facing are challenging and require strategic innovation and thoughtfulness that is being delivered in spades.