Springfield Echelon: Redefining Innovation in Service Pistols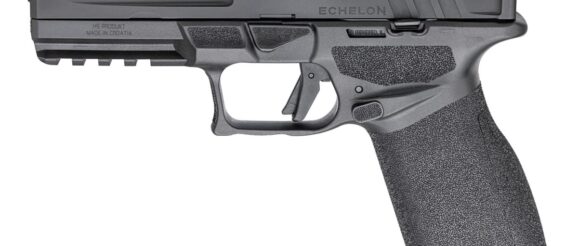 Springfield Armory introduces a groundbreaking innovation in service pistols known as the Echelon in the ever-evolving world of firearms. With its name drawing inspiration from a military formation, this pistol lives up to its moniker, representing a new rank, level, and tier in hard-use service firearms. The Echelon embodies the culmination of Springfield's expertise in designing and manufacturing striker-fired pistols, making it a true go-to service pistol that gets everything right.
A New Paradigm in Design
The Echelon sets itself apart from conventional service pistols with many innovations and patent-pending design implementations. Springfield focused on crucial aspects like grip texturing, optics mounting system, and durability, ensuring a superior user experience. The Echelon underwent a battery of tests throughout its development, including drop tests and exposure to various challenging substrates, such as dirt, mud, dust, and even water. The result is a pistol designed to withstand the harshest conditions without compromising performance.
Central Operating Group (COG)
The Echelon's foundation lies in its polymer-framed construction and striker-fired operating system. The central operating group (COG), a stainless-steel chassis housing the trigger assembly, serves as the serialized component, following US law requirements. The innovative aspect of the COG lies in its adaptability, allowing users to interchange grip modules to customize the pistol's size and grip configuration. Additionally, the COG integrates a "second sear" design, enhancing drop safety and ensuring the pistol meets the most stringent standards.
Variable Interface System (VIS)
Taking customization to new heights, Springfield introduced the Variable Interface System (VIS) for mounting optics on the Echelon. This system utilizes a series of holes in the slide, combined with self-locking pins, to directly support over 30 different optics, eliminating the need for adapter plates. The VIS enables easier co-witnessing with factory sights and ensures future-proofing with multiple optic footprints available. Furthermore, adapter plates are available for optics not directly compatible with the VIS, catering to a wide range of shooter preferences.
Tailoring the Echelon to Fit You
Springfield goes the extra mile to cater to individual preferences by offering various grip modules with Adaptive Grip Texturing, ensuring excellent traction for recoil control. Moreover, users can choose between small, medium, and large grip modules, altering trigger reach progressively, and each module comes with interchangeable backstraps for further customization. With additional options for different grip textures, the Echelon can be fully tailored to provide an optimal shooting experience for each user.
Enhanced User Experience
The Echelon boasts numerous design elements that enhance the user experience. Front and rear cocking serrations provide excellent traction for easy slide manipulation, while the Forward Trench relief cut offers a convenient pinch point for press-checking the pistol. The slide's Melonite finish ensures exceptional wear and corrosion resistance, and the flared rear corners offer a substantial gripping area for manual slide racking. Furthermore, the U-Notch sights with tritium inserts enhance visibility in various lighting conditions.
Putting the Echelon to the test, it proves itself with outstanding performance and reliability. The trigger system provides a clean and crisp pull, balancing safety, reliability, and ease of operation. Its superior handling and ergonomics and the Adaptive Grip Texturing contribute to excellent recoil control and overall shooting experience. Moreover, the Echelon's reliability stands out, as it flawlessly cycles through hundreds of rounds without malfunctions.
With an attractive MSRP of $679, the Springfield Armory Echelon offers exceptional performance at a reasonable price. Springfield's daring innovation, particularly with the Variable Interface System, sets a new benchmark for the industry. The pistol's adaptability, performance, and ergonomic design make it a milestone in modern duty pistols.
Technical specifications
| | |
| --- | --- |
| Country of origin: | United States/Croatia |
| Manufacturer: | Springfield Armory |
| Caliber: | 9mm |
| Barrel: | 4.5 inches |
| Overall length: | 8 inches |
| Weight: | 23.9 ounces (with flush-fit mag) |
| Height: | 5.5 inches |
| Width: | 1.2 inches |
| Grips: | Polymer |
| Capacity: | 17/20+1 |
| Sights: | U-Notch Rear, High Vis. Front |
| Action: | Striker-Fired |
| Finish: | Melonite |
| MSRP: | $679 |
Springfield Armory's Echelon represents a groundbreaking milestone in modern pistol design. Springfield Armory had an excellent experience with Springfield XD (HS2000). The Echelon sets a new standard for service pistols with its innovative features, user-friendly ergonomics, and outstanding performance. The revolutionary Central Operating Group and Variable Interface System for optics mountings showcase Springfield's dedication to pushing boundaries and offering shooters unparalleled adaptability and functionality. As the Echelon paves the way for the future of service pistols, it undoubtedly benefits professional users and firearm enthusiasts, making it a game-changer.